Recipe: Pig's trotters
Old-fashioned pig's trotters recipe, they simmered in a cast iron casserole dish directly in the oven. I've wanted to cook pig's trotters for a long time, a childhood memory, mom loved it. I prolonged the cooking of the pig's trotters, so that they are candied and tender. Cooking pig's trotters in a cast iron casserole dish in the oven allows no supervision and can simmer while you are at work. Pig's trotters a cheap recipe.
Recipe ingredients
Pig's trotters recipe for 2 people:
2 pig's trotters
3 onions
3 carrots
6 small potatoes
1 teaspoon of curry
Salt and pepper
15 cl of white wine
Instructions
Peel the onions then cut into eighths.
Peel the carrots, then cut into slices.
Rub and then rinse the red potatoes.
Rinse the pig's feet with clean water.
Place the onions and carrots in the bottom of a cast iron casserole dish.
Place the pig's trotters on top of the vegetables.
Sow the curry on the feet.
Place the potatoes alternately between the pig's trotters.
Pour 50 cl of water and the white wine.
Place in the oven at 150 ° for 4 hours 30 minutes.
Check the doneness of the pig's trotters.
Preparation time: 25 minutes
Cooking time: 4 hours 30 minutes
Number of people: 2
4 star rating: 1 review
What wine to drink with: Pig's trotters
My favorite wine for this recipe Vin d'Anjou Grape variety: Cabernet franc and Cabernet Sauvignon.
Temperature between 12 ° and 13 °
Carrots and onions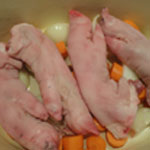 Pig's feet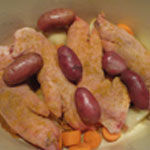 Add the potatoes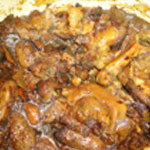 Cooked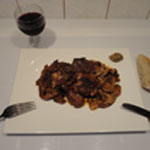 On a plate