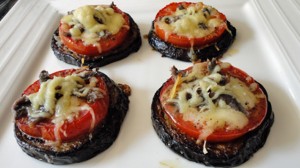 Recipe: Eggplant with Parmesan
Eggplant Parmesan Recipe. Eggplant An eggplant recipe easy to make roasted in the oven, the Parmesan will melt slowly to coat the slice of candied eggplant. Eggplants with Parmesan or Italian eggplant, only Italians can prepare these aubergines aubergines au gratin.
Recipe ingredients
Eggplant Parmesan Recipe for 4 people
2 eggplants
50 g of parmesan shavings
30 g of Comté
2 tomatoes
20 g anchovies marinated in oil
Pepper
Instructions
Wash the eggplants and tomatoes. Slice the vegetables to obtain slices 1 cm thick.
Place a sheet of baking paper on a baking sheet.
Place the eggplant slice, then the tomato and a shave of Parmesan. Arrange the anchovies in the shape of stars. Pepper, no need for salt the anchovy is enough.
Pass in a hot oven 200 ° for 30 minutes.
Preparation time: 10 minutes
Cooking time: 30 minutes
Number of people: 4
4 star rating: 1 review
What wine to drink with: Aubergine parmesan
My favorite wine for this recipe Mourvèdre Grape variety: Mourvèdre
Temperature between 16 ° and 18 °