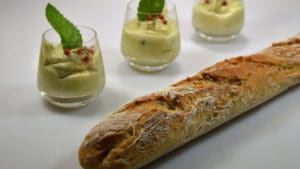 Seed Baguette Recipe
I still take so much pleasure in baking my bread, I like to take it out of the oven and eat it immediately. I used organic seeds for my seed baguette. I also take great pleasure in shaping it, I always use this book that my daughter gave me for Christmas. I also love the smell that pervades the kitchen. Bread is life, when you have tried one of these recipes, you will hardly buy store-bought bread anymore. Next time, I will represent you whole breads and surely gluten free.
Baguette recipe with seeds for 4 baguettes of 200 gr
Ingredients :
500 gr of flour type T65
325 gr of water at 20 °
100 g of liquid sourdough (or 25 g of dehydrated sourdough)
3 gr of fresh baker's yeast
80 g of assorted seeds
Instructions
Pour the flour and water into the robot's bowl.
Mix 4 minutes at slow speed.
Cover with a damp cloth and let stand for 1 hour.
Add the sourdough, yeast and salt.
Beat 4 minutes at low speed, then 7 minutes at high speed.
Form a ball, let it grow for 1 hour 30 minutes under a cloth, the dough will gain volume.
Flour the work surface, incorporate the seeds.
Cut the dough into 4 equal pieces.
Roll them slightly to lengthen them, let stand 30 minutes.
Gently flatten the dough pieces with the flat of your hand.
Take the dough pieces lengthwise.
Fold the right side up a third and press it with your fingers to give it a shape.
Fold the left side back a third and press it with your fingers to give it a shape.
Fold the dough in half lengthwise, weld with the base of your hand.
Roll it under the hand so that it takes the desired shape, refine the ends into spikes.
Place the rods under a welding cloth underneath.
Place under a damp cloth for 1 hour 40 minutes, the dough will gain volume.
Preheat the oven to 230 °, with a plate at the bottom, to receive the water.
Gently place the chopsticks under food paper, solder underneath.
Flour them and give 4 strokes lengthwise with the blade.
Bake for 20 minutes, adding the water to the bottom of the oven.
Leave the baguettes to cool on a rack out of the oven
Preparation time: 40 minutes
Cooking time: 20 minutes
Number of people: 4 baguettes
4 star rating: 1 review
What wine to drink with: La Baguette aux grains
The choice will be made with the main course.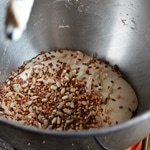 Add the seeds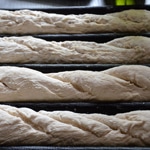 Let the bread rise