Recipe: Olive wool
Rabbit recipe with black olives, an easy rabbit recipe, you can ask your butcher to cut it for you. Rabbit in the oven, nothing better for this recipe than to let it simmer in the oven, I didn't do it, in fact my oven was already taken. Rabbit light recipe, no cream for this recipe just a roast rabbit, flavored with soy sauce. A well-flavored recipe with Greek-style olives, they have deliciously infused the rabbit.
Recipe ingredients
Rabbit recipe with black olives for 6 people:
1 rabbit
2 tomatoes
125 g black olives
1 onion
3 cloves of garlic
1 box of Paris mushroom stems and pieces
1 tablespoon of Provence herb
1 whole rabbit
10 cl of whiskey
2 tablespoons of soy sauce
2 tablespoons of duck fat
1 teaspoon of Provence herb
Instructions
Cut up the rabbit, or have it done by your butcher.
Heat a cast iron casserole dish with the duck fat.
Sear the pieces of rabbit in the hot duck fat.
Season the rabbit with salt and pepper.
Sprinkle the rabbit with the Provence herbs.
Add the olives.
Pour the whiskey over the hot rabbit.
Flambé the rabbit, watch out for the hood.
Peel the garlic then press it.
Peel the onion, cut it in 4 and add it to the rabbit.
Rinse and cut the tomato in 4 then add it.
Pour the can of mushroom with the water directly into the cast iron casserole dish.
Add the soybeans.
Simmer for 1 hour and a half under a low heat.
Preparation time: 15 minutes
Cooking time: 1 hour and 30 minutes
Number of people: 6
4 star rating: 1 review
What wine to drink with: Rabbit recipe with black olives
My favorite wine for this recipe: Gaillac red Cépage Syrah, Duras, Fer Servadou
Temperature between 16 ° and 17 °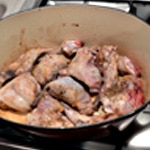 Cook the rabbit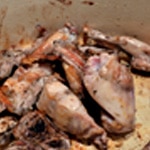 Turn the rabbit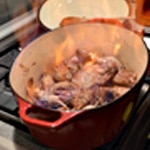 Blaze the rabbit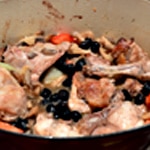 Cook the rabbit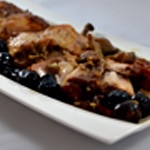 Zoom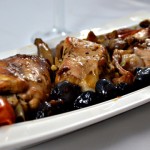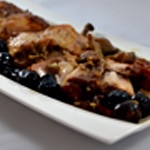 Zoom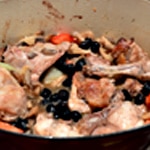 Cook the rabbit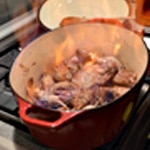 Blaze the rabbit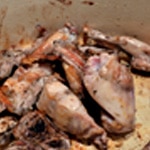 Turn the rabbit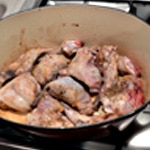 Cook the rabbit