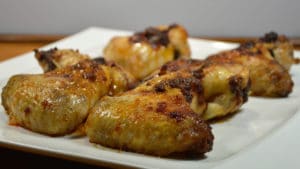 Baked Chicken Wings Recipe
A little recipe for a Wednesday with horse activity, every two weeks Léa, a friend of my daughter's, comes to eat at the house and has been doing so for almost three years. Well, if she's wonderful, her food tastes are quite limited, there are so many things that she doesn't like that I have to adapt every time. So I went for chicken wings with curry and it ended with baked chicken wings, flavored with paprika, well I agree it is not the same color… Good the wings of baked chicken, the girls love it, they have the right to eat with their fingers, it's so good… ..The crazy women wanted to eat the baked chicken wings with homemade fries.
Baked Chicken Wings Recipe for 5 people:
Ingredients
1 kg of chicken wings
2 teaspoons of sweet paprika
1 teaspoon of ground Cardamom
1 tablespoon of breadcrumbs.
1 tablespoon of flower honey
1 tablespoon of balsamic vinegar
2 tablespoons of olive oil
Instructions
Preheat the oven to 200 °.
Rinse the chicken wings under the tap.
Wipe the wings with food paper.
Mix all the ingredients, starting with the powders.
Then pour directly over the spices, after mixing the honey, vinegar and
finish with oil.
Dip the chicken wings directly into the preparation, coat them well with the honey sauce.
Place them on a rack and leave to air dry for one hour.
Pass into a baking dish.
Bake in the hot oven for 30 minutes, baste with the cooking juices after 15 minutes.
Preparation time: 10 minutes
Cooking time: 30 minutes
Number of people: 5
4 star rating: 1 review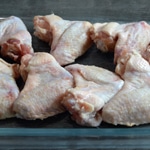 Trim the wings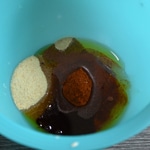 Prepare the marinade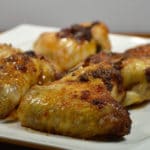 What wine to drink with: Baked chicken wings
My favorite wine for this recipe: Arbois Trousseau 2013 grape varieties: Trousseau, Pinot noir, Pulsard
Temperature between 11 ° and 13 °
Partnership Vin Paul Benoit de Pupillin in the Jura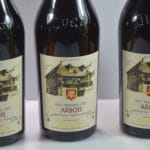 Zoom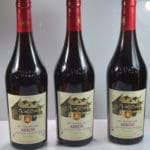 Bottles
A thought to all those connected from France or abroad in love with French cuisine and its wines, here is a great opportunity for you to buy a quality wine, without any risk, to accompany my recipe for Chicken wings in the oven. I selected this Jura wine a Trousseau from the Domaine de Vins Paul Benoit after tasting it, I loved it.
Arbois Trousseau 2013
With an intense red color, racy and fruity, with a magnificent nose of cherry, maybe sour cherry which reminds a little of pinot noir, then blackberry blackcurrant often black fruits which last quite a long time. But we end with the mushrooms and the undergrowth, here it is nature.
Vin Paul Benoit and son
Chardonnay Street
39600 Pupillin
Telephone: 0384 37 43 72
Email: paul-benoit-et-fils [at] orange.fr