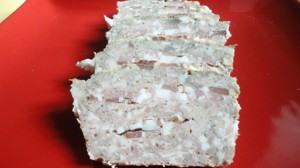 Recipe: Country terrine
Recipe for Country terrine or country pâté, a different name depending on the region, I chose country terrine. Country pâté to enjoy on a large slice of country bread for a cold buffet or a lumberjack snack, it will always be welcome. Homemade country terrine with a heart of smoked pork belly, the smoked flavor will flavor this country pâté to be enjoyed directly in the terrine. Large and generous slices of this country pâté for gourmets
Recipe ingredients
Country terrine recipe for 8 people:
500 g boneless pork loin
300 gr of pork throat
200 gr of smoked bacon
16 gr of fine salt
1 carrot 1 onion
1 clove of garlic
2 gr of ground gray pepper
2 tablespoons of armagnac
3 tablespoons of Port
1 egg
1 strainer
Instructions
Denote and degrease the pork loin.
Peel and slice the carrot.
Peel the onion and cut it into quarters.
Peel the garlic clove.
Chop up your meat and throat as well as all the vegetables.
Mix by hand, salt and pepper.
Respect the dosages of salt and pepper, it is really important for the balance of your terrine.
Line the bottom of your terrine with the strainer.
Place the stuffing at the bottom, then a slice of smoked bacon, then the stuffing.
Place two strips of smoked bacon, then some stuffing
I used a number 2 terrine.
Once your terrine is well loaded, press with your fist.
Finish with the smoked bacon.
Bake in a cold oven at the start, in a bain-marie for 1h30 at 150 °.
Preparation time: 40 minutes
Cooking time: 90 minutes
Number of people: 8
4 star rating: 1 review
What wine to drink with: Country terrine
My favorite wine for this Mâcon village blanc recipe Grape variety: Chardonnay
Temperature between 11 ° and 13 °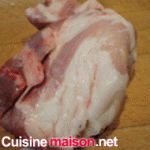 Pork throat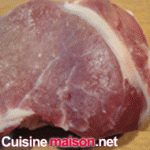 pork loin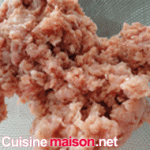 Chop the meat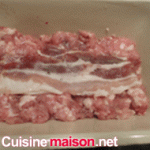 Fill the terrine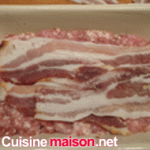 Chest floor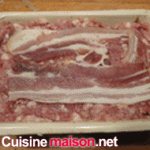 Ready to cook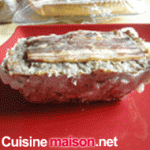 Cooked terrine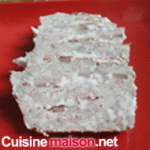 Slice of terrine