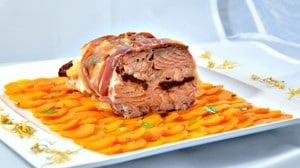 Recipe: Baked salmon
Recipe for baked salmon, I loved this salmon stuffed with sundried tomatoes and au gratin with a Parmesan. Raise or raise the fillets of your large piece of fish. Salmon remains one of the most affordable fish. Be careful when cooking the salmon, it should not overcook, it will be tastier and softer if you do not overcook it.
Recipe ingredients
Baked salmon recipe for 4 people:
1.500 kg of whole salmon or 2 large fillets
10 large petals of sun-dried tomatoes
80 g parmesan
5 slices of raw ham
4 carrots
3 onions
10 cl of white wine
Instructions
Raise or raise the salmon fillets.
Place sundried tomato petals on the salmon fillet.
Grate the Parmesan over the tomatoes.
Place the second fillet on top of the first.
Dress the two salmon fillets with the cured ham.
Tie the whole thing up regularly.
Peel the carrots and onions.
Slice them thinly.
Place the vegetables in a lightly buttered baking dish.
Place the piece of salmon on the bed of carrots and onions.
Bake in a hot oven at 200 ° for 25 minutes.
Preparation time: 20 minutes
Cooking time: 25 minutes
Number of people: 4
4 star rating: 1 review
What wine to drink with: Baked salmon
My favorite wine for this recipe: Red Arbois Cépage Poulsard, Trousseau, Pinot noir
Temperature between 15 ° and 16 °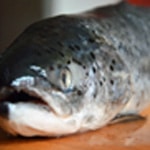 A salmon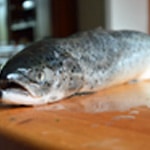 Rinse the salmon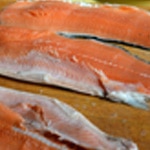 Lift the fillets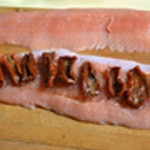 Place the tomatoes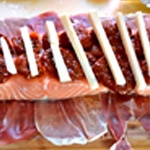 Place the parmesan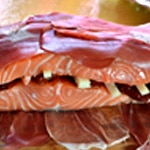 Cover with ham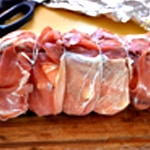 Tie with the twine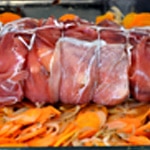 Place the roast on the carrots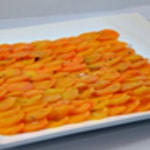 Carrot scales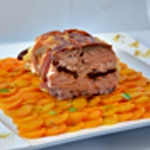 Place the roast on the bed of carrots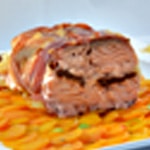 Zoom