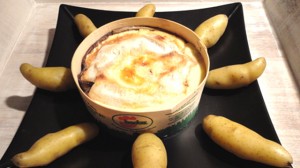 Recipe: Baked Vacherin
vacherin recipe in the oven. The vacherin in the oven or the mont d'or in the oven. Mont d'or or lee vacherin is an identical cheese, it all depends on the region where you are. The Vacherin appellation is rather Swiss from the Gruyère region, while the Mont D'or appellation is more from the Haut Doubs region in Franche Comté. This cheese recipe rivals the winter fondue. Here Vacherin au four is cooked with small Noirmoutier potatoes, small bonnotte, a marriage between two regions
Recipe ingredients
Recipe vacherin in the oven for 4 people
Ingredients
1 large mound of gold
1 kg of Noirmoutier potatoes
Instructions
Preheat your oven thermostat 8.
Using a tablespoon, dig your Mont d'Or in the center, without touching the bottom of the cheese. Fill the hole with white wine, add the whole garlic
Cover the Mont d'Or box with aluminum foil to protect it from the heat of the oven.
Place in a hot oven 200 ° for 40 minutes, until the cheese becomes liquid.
Once cooking is complete, grill for 5 minutes at 220 ° to brown the top.
Cook the Noirmoutier potatoes for 10 minutes in a pressure cooker.
Preparation time: 10 minutes
Cooking time: 35 minute (s)
Number of people: 4
4 star rating: 1 review
What wine to drink with: Vacherin au four
My favorite wine for this recipe: Côte du Jura Grape variety: Savagnin blanc; Chardonnay; Pinot Blanc
Temperature: between 11 ° and 12 °