Recipe: Baked veal kidney
Veal kidneys, cooking veal kidneys in the oven is surely the most delicate part, I like them rosé. Grilled veal kidney just before putting it in the oven, just brown them a little so that the juices remain in the kidney. Baked veal kidneys an easy recipe to make, if your butcher also adorns you veal kidneys. we love all kidneys at home, but it's true that our favorites are veal kidneys
Recipe ingredients
Recipe Veal kidney in the oven for 4 people:
2 veal kidneys
1 sprig of rosemary
1/2 bunch of parsley
1 clove of garlic
40 gr of button mushrooms
40 gr of peeled chestnuts
2 slices of stale bread
1 teaspoon of olive oil
1 clove of garlic
1 tablespoon of white wine
1 teaspoon of Séchouan pepper
Instructions
Preheat the oven to 180 ° C.
Rinse the veal kidneys and dry them with absorbent paper or have them trimmed by your butcher.
On a cutting board, roughly chop the parsley, garlic, mushrooms and chestnuts with a knife.
Dip the breadcrumbs with half the white wine.
Brown the preparation with the chestnuts in the oil over medium heat for 5 minutes.
Then add the breadcrumbs and cook for another 5 minutes.
Garnish the kidneys with your stuffing.
Tie the kidneys up.
Place the veal kidneys in a hot oven in an earthenware dish for 25 minutes.
Preparation time: 30 minutes
Cooking time: 25 minutes
Number of people: 4
4 star rating: 1 review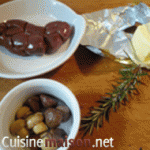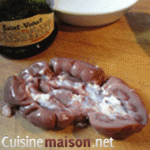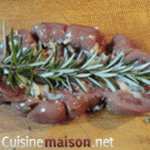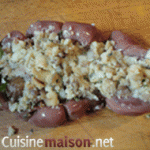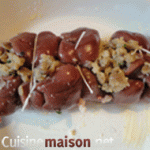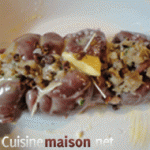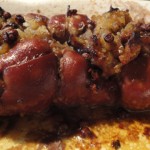 What wine to drink with baked kidneys:
My favorite wine for this Lalande Pomerol 2014 recipe Grape variety: Merlot and Cabernet Franc
Temperature between 16 ° and 18 °
Partnership with the G Arpin vineyard in St Emilion in Gironde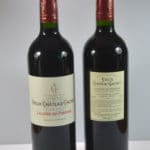 Bottles
Zoom
A thought to all those connected from France or abroad in love with French cuisine and its wines, here is a great opportunity for you to buy a quality wine, without any risk, to accompany my recipe for veal kidney in the oven in the oven. I selected this Bordeaux wine from the G Arpin vineyard "Vieux château Gachet Lalande de Pomerol 2014 after tasting it, I loved it.
Old Château Gachet 2014 Lalande de Pomerol
Adorned with a dark and deep color, it develops notes of red fruits, blackberries with some woody notes in the vanilla register. A nice taste volume with freshness and fine and long tannins.
Silver medal at the Bordeaux 2015 competition for the 2012 vintage
G.ARPIN vineyards
Chantecaille
33 330 Saint-Emilion
Phone: 09 71 58 23 49
Email: vignobles.g.arpin [at] wanadoo.fr </p