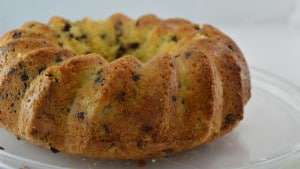 Banana choco delight
Instructions
banana choco delight recipe, my daughter each time she fell from her horse took these riding lessons, must bring a cake, the center takes every opportunity to taste my new tests. Today chocolate and bananas are in the spotlight, for this chocolate banana delight. Of course I would have liked to add a little rum to this delicacy, but since it is made for young girls we will abstain. I would have served this chocolate banana delight with a homemade vanilla ice cream. The house is deliciously scented with the chocolate banana delight that cooks, I salivate I want to taste immediately… ..
Ingredients
Banana choco delight recipe for 6 people:
2 large bananas
250 gr of flour
18 gr of baking powder
125 gr of caster sugar
120 gr of butter
3 eggs
150 gr of chocolate chips
3 teaspoons of vanilla sugar
20 gr of brown sugar
3 teaspoons of vanilla sugar
10 gr of icing sugar.
Instructions
Preheat the oven to 180 °
Butter the mold then sprinkle with brown sugar
Separate the eggs.
Whip the yolks with the sugars.
Sift the flour with the baking powder.
Melt the butter and add it to the egg yolks.
Gently fold in the flour.
Pour in the lukewarm butter.
Add the bananas and nuggets.
Beating egg whites.
Gently fold the egg whites into the preparation.
Pour into the mold and tamp down a little.
Bake in the oven for 35 minutes.
Once cooked, let cool, unmold.
Sprinkle with icing sugar.
Bake for 35 minutes to 45 minutes
Preparation time: 20 minutes
Cooking time: 35 to 45 minutes
Number of people: 6
4 star rating: 1 review
What wine to drink with: Banana choco delight
My favorite wine for this recipe: Blanquette de limoux, Mauzac grape, Chardonnay and chenin blanc
Temperature between 06 ° and 08 °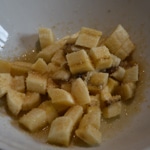 Cut the bananas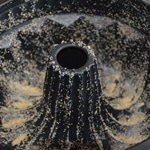 buttering the pan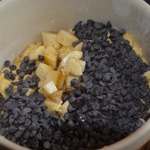 Add the nuggets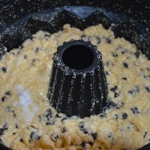 Pour into the mold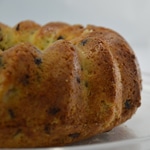 Zoom