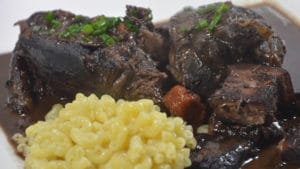 Coq au vin rouge recipe
I bought, at Christmas, a rooster at the farm, I found it a bit expensive, but as soon as I carried it, I understood, indeed it weighed almost 6 kg. There were six of us to eat and even if I wanted to eat it twice, I divided it in two: once for a Coq au vin rouge and another time for a coq au vin jaune (which I will present to you on another occasion) ). I had received from Château de Fayolle in Saussignac in Dordogne, a wonderful batch of their production, among the batch there was a red Bergerac cuvée Sang de sanglier, an excellent powerful wine of 14.5 °. This wine has divinely perfumed my Coq au vin rouge, with a wonderful sauce, I still have mouth watering. Frankly, I did not take a lot of risk with this recipe, a quality farmhouse rooster and a wine of a power almost made for this kind of Château Fayolle in Saussignac in the Dordogne a marriage of love with this Coq au vin rouge .
Recipe for Coq au vin rouge for 10 people:
Ingredients
½ rooster
750 g smoked bacon
2 large tablespoons of olive oil
50 g butter
2 small onions
2 carrots
2 tablespoons of flour
2 bottles of wild boar wine from Domaine Fayolle
3 bay leaves
2 squares of chocolate
Instructions
Cut the ½ rooster or have it done by the butcher.
Cut the carcass in half lengthwise.
Grill the carcass already, color it well, then set aside.
Sear the rooster in a casserole dish with the oil, without coloring it too much.
Lightly flour the pieces of rooster and toast the flour.
Remove the fat from the casserole dish.
Peel then finely chop the shallots.
Sear the onions and carrots in the casserole dish with the butter, without letting them color.
Add the wild boar wine to the casserole dish and simmer gently under the lowest possible heat.
Cook for about 4 hours under a low heat, be careful not to open your casserole dish too much.
Reserve the rooster in the hot oven.
Add the chocolate and let it melt in the sauce.
Let the sauce reduce, it must be very smooth (this operation will only be done if your sauce is not a little thick).
Add the rooster at the end of the reduction and serve on hot plates.
Preparation time: 30 minutes
Cooking time: 4 hours
Number of people: 8
4 star rating: 1 review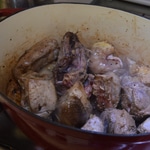 Grill the rooster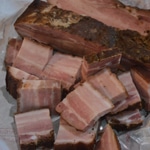 Slice the bacon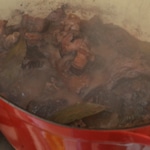 Monitor cooking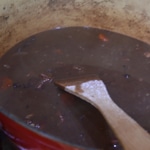 Let the sauce thicken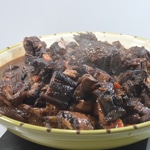 Cooked rooster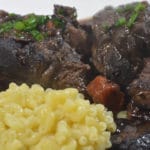 What wine to drink with: Coq au vin rouge
My favorite wine for this recipe: Bergerac rouge cuvée sang du sanglier Merlot grape
Temperature between 16 ° and 17 °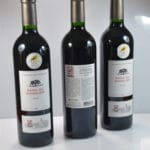 Bottles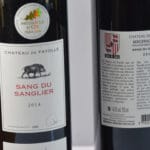 Zoom
Partnership With Château Fayolle in Saussignac in the Dordogne
A thought to all those connected from France or abroad in love with French cuisine and its wines, here is a great opportunity for you to buy a quality wine, without any risk, to accompany my recipe for coq au vin Red. I selected this Saussignac wild boar wine from the Château de Fayolle estate after tasting it, I loved it.
Sang du sanglier 2014 from Château de Fayolle in Saussignac in Dordogne
Deep garnet red, this wine aged in French oak barrels will not leave anyone indifferent, the nose is intense, the aromas of black fruits mingle with woody notes. This generous wine will be appreciated in the kitchen and particularly by chefs who seek to highlight local products. This wine of character at the height of its 14.5 ° will accompany the most refined dishes. It is the fruit of the know-how of this area, helped by the climate and the sunshine of this beautiful region, La Dordogne.
The castle of Fayolle
24240 Saussignac, Dordogne – France
Phone +33 5 53 74 32 02
Email: admin [at] chateaufayolle.com </p