Goat cheese Fougasse recipe
A very tasty fougasse !!! I really like the goat; here an almost fresh goat, we regretted with Léonie having chosen a young goat, it lacked a little character. Next time, I will choose a cheese with a lot more flavor, a cheese with character, it is true that my Goat Fougasse was a bit lacking, now my daughter loved it. I will introduce you to other fougasses, because my daughter loves this generous dough, it looks like bread. I stay with this goat fougasse recipe, in the fougasse tradition; but I think that next time, I will let myself go a little and present you some crazy fougasses. The fougasse is the tradition of the south of France, it is cooked in ovens in the south, often with herbs from Provence, thyme, Savory and of course Rosemary.
Goat cheese Fougasse recipe for 2 people:
Ingredients
250 g of goat cheese in a log
250 g of type 55 flour
150 g of lukewarm water at 20 °
50 g of liquid sourdough
5 g baker's yeast
5 g of salt
15 g oil
100 g of heavy cream
40 g of Comté
Instructions
Preheat the oven to 235 °, with the rack at the bottom of the oven.
Grate the county.
Cut the goat cheese into 1 cm rounds.
Mix the flour, salt, liquid sourdough, yeast and water in the food processor.
Knead for 5 minutes at slow speed.
Then knead for another 7 minutes at high speed.
Incorporate the oil and knead for another 3 minutes at high speed.
The dough should be soft and smooth, it is gathered on the hook.
Flour your work plan.
Form a ball and cover it with a damp cloth.
Leave to rise for 1 hour at room temperature.
Fold the dough in half and let it rise for another hour.
Flour the work surface and divide the dough into 4.
Roll the dough pieces on themselves, giving them an elongated shape.
Leave to stand for another 15 minutes under a damp cloth, solder underneath.
Roll out the dough pieces by hand, to obtain oval pastes.
Place the pastry on a non-stick baking sheet.
Spread the cream generously, leaving a 1 cm blank edge on half of the dough.
Sprinkle with grated Comté.
Add the sliced goat cheese.
Close the fougasse with the lid, lightly weld the edges.
Let it grow for another 30 minutes.
Bake in the oven, adding 5 cl of water in the bottom plate for 4 minutes.
Lower the oven to 220 ° and cook for another 10 minutes.
Brush olive oil on the virgin edges of the fougasse.
Enjoy without moderation.
Preparation time: 2 hours 45 minute (s) of growth
Cooking time: 14 minutes
Number of people: 2
4 star rating: 1 review
What wine to drink with: Goat cheese Fougasse
My favorite wine for this recipe: Côte de Provence rosé Grape Cinsault, Syrah, Grenache noir
Temperature between 08 ° and 10 °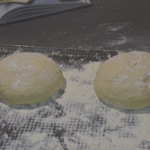 Let it grow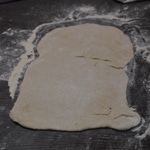 Roll out the dough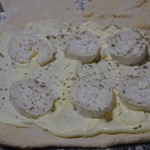 Slice the goat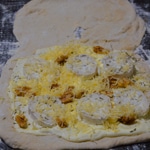 Add Comté and cream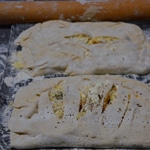 Crack the lid<img src="/wp-content/uploads/2021/09/5073131819868117799.jpg" class="aligncenter"