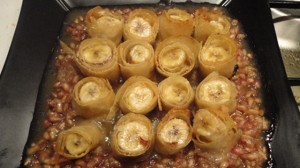 Recipe: Banana in shell
Inshell banana recipe. An easy recipe to make for an original and inexpensive dessert. A new way to eat bananas, a cooked banana recipe for a crispy and juicy dessert thanks to the pomegranate. Baked banana recipe to finish a meal, with this baked banana recipe, you will surprise your guests.
Recipe ingredients
Inshell banana recipe for 4 people:
4 ripe bananas
4 dessert spoons of honey
40 g salted butter
1 pomegranate
Instructions
Cut the bananas into 3 to 4 cm sections.
Butter the bottom of a dish to put in the oven.
Cut the pastry sheets into 3 to 4 cm strips.
Heat the butter in a bowl in the microwave for 1 minute.
Butter the strips of brick pastry sheets with a brush.
Wrap each section of bananas with the pastry sheet.
Cut the top of the roll with a pair of scissors so that it is the same height as the banana.
Place the sections upright in the previously buttered dish.
Pour the honey on top of the sections.
Place a knob of butter on each section.
Cut the pomegranate in half, and collect the seeds from the fruit.
Divide the pomegranate around the bananas.
Place in a hot oven at 180 ° for 20 minutes.
Preparation time: 10 minutes
Cooking time: 20 minutes
Number of people: 4
4 star rating: 1 review
What wine to drink with: Inshell bananas
My favorite wine for this recipe Alsace Gewurztraminer Grape variety: Gewurztraminer
Temperature between 11 ° and 12 °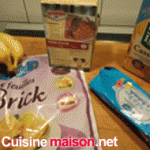 Ingredients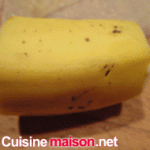 Slice the banana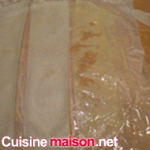 Cut the strips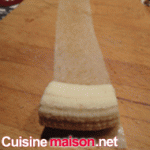 Place the banana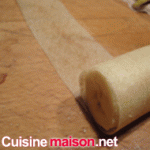 Roll up the banana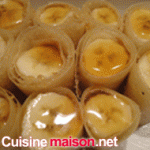 Pour the honey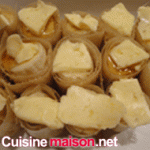 Place the butter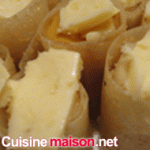 Zoom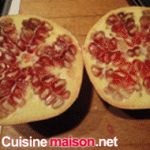 The grenade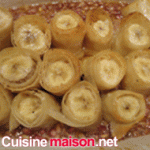 Pour the seeds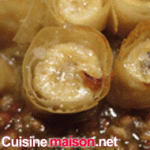 Crispy banana