Basque Chicken Recipe
I like this Basque-style chicken, it is as beautiful as it is tasty, the chicken is gorged with the flavor of peppers, a dish that is almost sweet and salty. I had chicken thighs bought for this recipe, of course we must not forget the Espelette pepper for this recipe from the Basque region. In principle, we keep cooking the peppers for the end, they must above all remain a little firm. Basque chicken for a meal with grandpa René this evening for the France Iceland match, a beautiful evening in perspective, with the victory of our French. This Basque-style chicken originates from the Basque country, some people cite the town of Soule, at least with this recipe, it is impossible not to honor Espelette pepper and peppers. Of course, to accompany my Basquaise chicken, I chose a wine from the Basque country, a red Irouléguy, it was impossible to do otherwise.
Basque Chicken Recipe for 8 people
Ingredients :
8 chicken thighs
4 red peppers
4 green peppers
4 large tomatoes
2 large onions
20 cl of white wine
1 teaspoon of Espelette pepper
2 purple garlic cloves
1 tablespoon of olive oil
Salt and pepper
Instructions
Grind the tomatoes in a large volume of salted water.
Remove the skin with a sharp knife, then slice into quarters.
Peel, then finely mince the onions.
Peel and then press the garlic using a garlic press.
Heat a cast iron casserole dish with olive oil.
Sear the chicken thighs in hot oil under a not too high heat.
Reserve the chicken, as soon as it has taken on beautiful colors.
Throw the onions into the casserole dish while stirring, add the squeezed garlic.
Deglaze with the white wine.
Place the chicken thighs in the juice and cook gently for 15 minutes.
Sprinkle with chilli, salt and pepper.
Add the peppers and cook for another 10 minutes.
Stop cooking as soon as the chicken is cooked.
Reduce the sauce a little, it should coat the wooden spoon.
Preparation time: 30 minutes
Cooking time: 20 minutes
Number of people: 8
4 star rating: 1 review
What wine to drink with: Basque chicken
My favorite wine for this recipe: Irouléguy red Grapes Cabernet Franc and Sauvignon, Tannat
Temperature between 15 ° and 16 °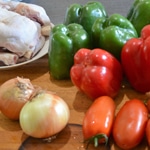 Ingredients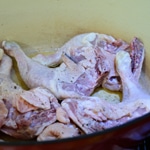 Sear the chicken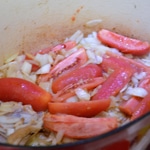 Add the tomatoes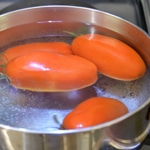 Grind the tomatoes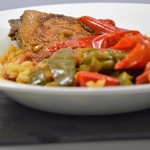 Zoom