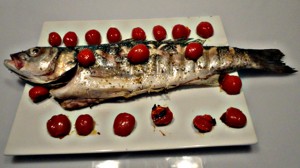 Recipe: Bar on the barbecue
Barbecue bar recipe, this is one of my first barbecue, normal we had a beautiful sun on this victory day. Light sea bass recipe cooked on the flame, a real delight for all fish lovers, you just need not put the sea bass directly on the barbecue, I folded an oven rack to raise my fish, of course on this grill serves me for another barbecue dish. Barbecue bar recipe for fish lovers, we had a large 900g bar for two, it was ideal.
Ingredients:
Recipe for 2 people: Bar on the barbecue
1 bar of 800 g
10 sprigs of fresh thyme
2 tablespoons of olive oil
Instructions
:
Rinse the bass with water.
Wipe the bar down with food paper.
Rinse and then dry the thyme twigs.
Salt and pepper the inside of the fish
Place the thyme inside the fish.
Sew up the belly of the sea bass with thread with 3 to 4 stitches.
Generously salt and pepper the outside.
Place the sea bass between two barbecue grills.
Pour olive oil over the fish.
Place a grill to elevate the fish so that it does not touch the barbecue plates.
Cook over high heat on the barbecue for about 10 minutes on each side.
Serve immediately, be careful cooking on the barbecue cools very quickly.
Preparation time: 10 minutes
Cooking time: 10 minutes
Number of people: 2
4 star rating: 1 review
What wine to drink with: Bar au barbecue
My favorite wine for this recipe: Coteaux du Languedoc Cépage Cinsault, Carignan, Mouvèdre
Temperature between 08 ° and 10 °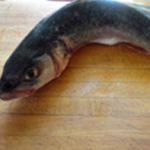 Rinse the bar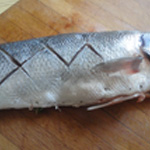 Trim the sides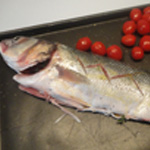 Sew up the belly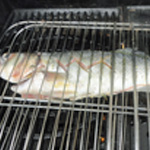 Cook on the barbecue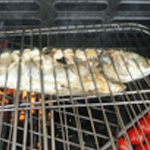 Flip the grid