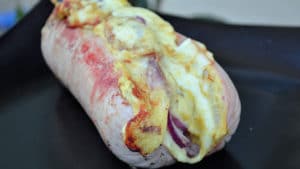 Barbecue Cervelas recipe
Summary: I've been thinking about this barbecue cervelas recipe for several weeks now. I took advantage of the first rays of sun. I honestly loved this special flavor of the cervelas with the Comté and the red onions, hot or cold. I finished them the next day and the flavor was different again. A recipe that changes from the cervelas salad. For cooking the cervelas, I chose the barbecue, but I am convinced that the oven is a good option. I had already feasted on the mixed salad, but the barbecued cervelas took a big place.
Barbecue Cervelas recipe for 2 people:
Recipe ingredients
1 cervelas of 400 gr
75 gr of sliced Comté
1 red onion
4 teaspoons of strong mustard
Instructions
Remove the skin from the cervelas
Cut the cervelat in half lengthwise
Peel and finely chop the red onion.
Generously brush the inside of the cervelas with the mustard.
Pepper generously.
Add the cheese.
Place the onion in the cervelas.
Close the cervelas.
Tie the cervelat 2 to 3 turns with food twine.
Cook for a few minutes on the barbecue plancha (or a baking sheet)
Turn the barbecue regularly with tongs.
Preparation time: 20 minutes
Cooking time: 10 minutes
Number of people: 2
4 star rating: 1reviews
What wine to drink with: Cervelas on the barbecue
My favorite wine for this recipe: Beaujolais Village Cépage Gamay
Temperature between 11 ° and 12 °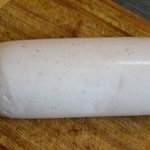 Remove the skin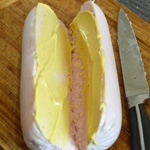 Slice and mustard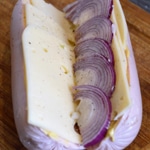 Lay the red onion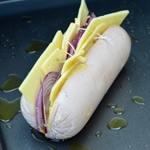 Add cheese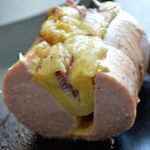 Cook on the plancha