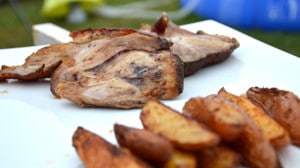 Recipe: BBQ ham
Barbecue ham recipe, cooking in two stages so as not to overdry the ham, I love when the skin is crisp. Jean Michel and Béa are good at making us super crispy ham. You will say another barbecue recipe, but at home we never tire of this cooking method, the barbecue is the king of summer and this year in Franche Comté we have been spoiled with the sun. So heat the barbecue …… .The pork ham was cooked, part in the oven and part in the barbecue, in order to caramelize the ham.
Recipe ingredients
Barbecue ham recipe for 8 people:
1 ham
1 tablespoon of paprika
¼ teaspoon ground pepper
3 tablespoons of olive oil
1 tablespoon of honey
2 tablespoons of balsamic vinegar
10 cl of white wine
1 tablespoon of tomato paste.
Salt and pepper
Instructions
Mix the olive oil with the tomato paste and the vinegar.
Add to the preparation the honey dissolved in the white wine.
Sprinkle the sauce with paprika.
Salt and pepper.
Generously brush the ham with the sauce.
Place the ham in a baking dish.
Bake the ham in a hot oven at 180 ° for 2 hours.
Monitor the cooking of your ham, if you notice that it is heating up a little.
Cover the ham with aluminum foil, only if it takes color.
Slice the ham into generous portions.
Brush the ham slices with the rest of the preparation.
Caramelize on a hot barbecue, be careful, it burns quickly, stay close to the barbecue.
Preparation time: 15 minutes
Cooking time: 2 hour (s)
Number of people: 8
4 star rating: 1 review
What wine to drink with: Barbecued ham
My favorite wine for this recipe: Alsace Pinot noir Grape Pinot noir
Temperature between 12 ° and 14 °
Thanks to Béatrice and Jean Michel for their great ham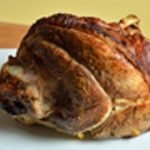 Cook in the oven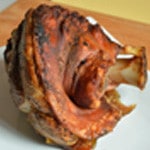 Return to the middle of cooking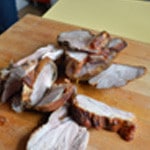 To slice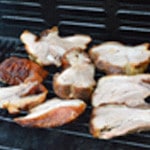 Finish cooking on the barbecue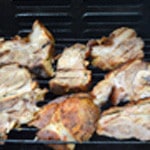 To return to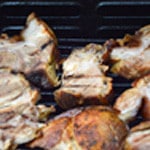 Let it grill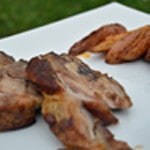 Zoom