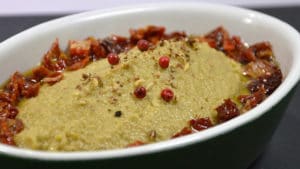 Green olive and tomato tapenade recipe
I always have tapenade at home waiting in my refrigerator, at home it's been a long time since we no longer buy appetizer cakes in supermarkets. I also often have a dry sausage bought on the market in Vesoul from my friend Odile, who offers a multitude of olives, sausages and cured hams. I had chosen Belle di Cerignola olives for my green olive and tomato tapenade, they are long and firm, the stone sticks to the flesh. I took great pleasure in preparing this Tapenade with green olives and tomato, but also at the time of tasting on a toasted homemade bread, a killer.
Green olive and tomato tapenade recipe for 6 people:
Ingredients :
Green olives from Italy
15 gr of Italian sun-dried tomatoes
2 large capers
3 tablespoons of olive oil for the sundried tomatoes
1 purple garlic clove
15 tablespoons extra virgin olive oil
5 pink berries and Séchouan pepper for decoration
10 Sichuan peppercorns
Instructions
Thinly slice the sun-dried tomatoes with a knife.
Cover the tomatoes with a spoonful of olive oil.
Pits the green olives, removing the flesh with a sharp knife.
Peel the purple garlic.
Mix the olives, capers and garlic at the same time.
Gradually add olive oil.
Crush the pepper.
Pour the tapenade in a ramekin.
Add the pepper and pink berries.
Sprinkle with tomatoes in oil.
Preparation time: 30 minutes
Cooking time: 0 minutes
Number of people: 6
4 star rating: 1 review
What wine to drink with: Green olive and tomato tapenade
My wine for this recipe: favorite Saint Peray blanc Cépage Hermitage blanc and Roussanne
Temperature between 08 ° and 10 °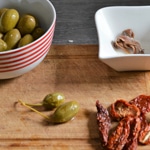 Ingredients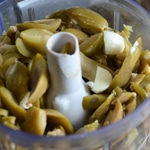 Mixer