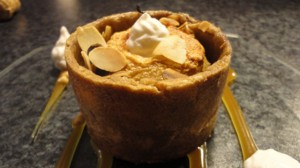 Recipe: Revisited apple pie
Apple pie recipe revisited, with green apples from Canada, soft but still a little crunchy, we loved it. Apple pie coating, I made salted caramel, a real delight for this apple pie. Here's how to make an original apple pie your guests will love.
Recipe ingredients
Recipe for Revisited Apple Pie 4 people:
4 green apples from Canada
1 tablespoon of pine nuts
20 cl of fluid cream
150 g of type 55 flour
100 g chestnut flour
125 g sugar
125 butter
A pinch of salt
Salted caramel
90 g caster sugar
40 g salted butter
8 cl of 33% fluid cream
Instructions
Mix the flours with the pinch of salt.
Cut the butter that has been out for 1 hour into small cubes.
Sand with your hands, rubbing your hands with the flour and butter.
Rest the dough for half an hour in the refrigerator.
Butter the stainless steel circles, then flour them.
Spread the shortbread finely.
Place the circles on the shortbread to fill the bottom.
Cut shortbread strips the height of your molds.
Place the strips inside the mold.
Peel the apples.
Remove the section using an apple tool.
Cut the apples so that they make them in the molds.
Place an apple in stainless steel circles.
Toast the pine nuts in a dry pan.
Spread the pine nuts inside the apples.
Cook rotating heat at 180 ° for 40 minutes.
Make the salted caramel like here
Unmold the circles and serve lukewarm.
Pour the salted caramel into the apple.
Preparation time: 20 minutes
Cooking time: 40 minutes
Number of people: 4
4 star rating: 1 review
What wine to drink with: Revisited apple pie
My favorite wine for this recipe: Gewurztraminer late harvest Grape variety Gewurztraminer
Temperature between 10 ° and 12 °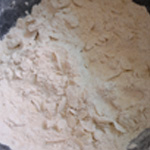 Mix the flours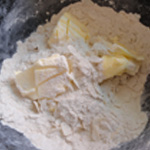 Add the butter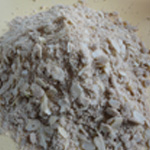 Sand with your hands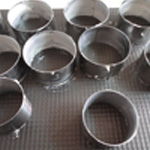 Butter and flour
Cut the background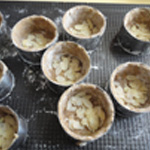 Add flaked almonds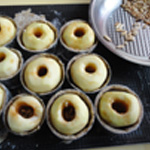 Put down an apple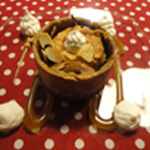 Zoom