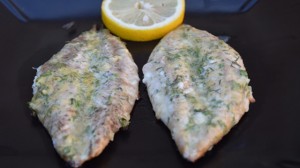 Recipe: BBQ mackerel
Recipe for barbecued mackerel, let's make the most of this beautiful summer by eating barbecued fish, it's good for your health and a change from the traditional chipolatas and merguez. Mackerel cooks quickly on a baking sheet, you can start on the skin so that they are barely crispy. In summer at home the barbecue is king, every day we consume grilled meats, fish, vegetables and even fruit. I will put the fruit on the barbecue for next year, I promise. Mackerel remains the cheapest fish, so you have to take advantage of it during these hard times….
Recipe ingredients
BBQ mackerel recipe for 4 people:
8 mackerel fillets
1 tablespoon of mustard
10 cl of dry white wine
1 clove of garlic
1 small bunch of flat-leaf parsley
Salt and pepper
Instructions
Rinse the mackerel fillets, then dry them with food paper.
Peel the garlic clove.
Rinse the parsley, then dry them with food paper.
Finely chop the flat-leaf parsley and garlic with a knife.
Put a tablespoon of mustard in a bowl.
Pour in the white wine.
Add the parsley.
Salt and pepper.
Incorporate the preparation well.
Generously brush the mackerel fillets with the mustard sauce.
Place the mackerel skin sides on an oiled baking sheet.
Place the plate on the very hot barbecue.
Turn the mackerel over to cook on the other side.
Preparation time: 10 minutes
Number of people: 4
Cooking time: 15 minutes minutes
5 star rating: 1 review
What wine to drink with: BBQ mackerel
My favorite wine for this recipe: Alsace Pinot blanc Pinot blanc grape (Klevner)
Temperature between 10 ° and 12 °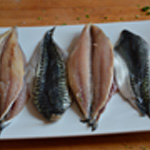 Rinse the mackerel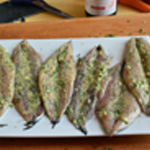 Brush with sauce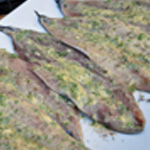 Zoom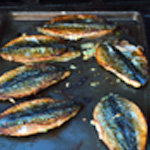 Bake the skinless face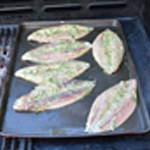 Flip the mackerel