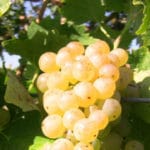 Zoom, the cluster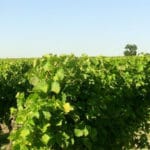 The vines in Charente and the sun
In 1919 the great-grandfather Philippe Bétard bought the Domaine des Groies. But it was in 1924 that Auguste Bossis began to plant the first vines. Today the Bossis Raymond family and their two sons Jean-Luc and Jean-Marie invite you and welcome you to their 19th century residence in Saint Bonnet sur Gironde in Charente-Maritime, offering tours of their cellars, distillery and of course a free tasting (allow approximately 1 hour) in order to be able to discuss with these enthusiasts. Lovers of their profession, they will make you appreciate their productions: Pineau des Charentes white, rosé and red, cognac, red, white and rosé country wines, raw and semi-dry sparkling wine, red and white grape juice.
Respectful of the environment, they have attached great importance to respect for the environment from the start, practicing sustainable agriculture according to the Optimus protocol, which minimizes the impact of pesticides on grapes, and therefore on wines.
Pineau Blanc
Made from Ugni blanc and Montils grape varieties and must be obtained after blending in oak barrels ¾ volume of grape juice and ¼ of Cognac. Following aging, the analysis should show a blood alcohol level between 16 ° and 22 °. This Pineau blanc, presents a beautiful straw yellow color supported, limpid and brilliant. On the nose with floral aromas, remains young in the mouth with nuances of fresh grapes and peaches.
Red pineau
Made from Merlot (70%) and Cabernet Sauvignon grape varieties, same blend as Pineau blanc. This red Pineau stands out for its dark ruby color, after two years it gives all its fruity aromas: wide range of aromas (fresh grapes, blackcurrant, morello cherry, redcurrant, raspberry). and its roundness. A quality partner to accompany chocolate desserts.
Cognac Special long Drink
A young 4-year-old cognac, it will compete with all the alcohol in your bar, I particularly like it as an aperitif with an ice cube. But it will also and above all be present in my kitchen. I really like its lively and velvety freshness side at the same time. Its slightly light color leaves nothing to be seen before tasting and this explosion in the mouth, I really loved it.
But the work of this domain in Charente-Maritime, it is also many other creations which deserve as much respect, it is sure that other rewards will come to honor the know-how of this owner. I took a lot of pleasure to taste them with VIPs more or less initiated in the wines, but all very amateurs, this privileged moment is organized at the house where we will associate wines of producers with my culinary creations. This private club is open to all home cooking fans, but sessions are limited to 10 people and 10 wines.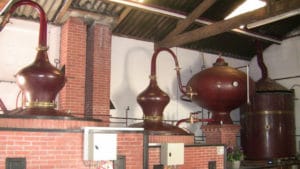 The other productions to discover later from this beautiful property:
Wines from the Charentais region, white, rosé, red, Pineau rosé, old Pineau white, extra old Pineau white. Cognac VSOP, Cognac Napoleon, Cognac XO …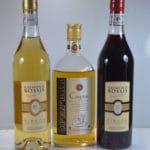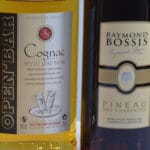 Cognac Pineau Raymond Bossi
4 the Groies
17150 St Bonnet sur Gironde
Phone 05 46 86 02 19
Mail: pineau.bossis [at] neuf.fr </p