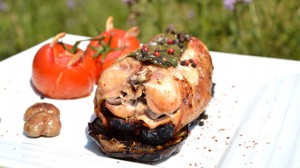 Recipe: BBQ saddle of rabbit
Recipe for barbecue saddle of rabbit, he cooked gently on the barbecue, with the bell closed, he knows deliciously flavored with candied tomatoes and sauce. I had thought that the cooking was going to be hard, but after fifteen minutes, it had already taken a nice color, nicely golden. The saddle of rabbit remains my favorite part of the rabbit, if in addition there are two kidneys, then this is a killing. I like cooking on the barbecue in summer, I am lucky to have a bell in addition, which allows me to cook nice pieces of meat and especially an outside space. A recipe for you ladies, grilled rabbit on the barbecue, a very light recipe.
Recipe ingredients
Barbecue saddle of rabbit recipe for 2 people:
1 saddle of rabbit
1 small bunch of sage
60 g Sun-dried tomatoes
3 cloves of garlic
1 small eggplant
2 grappa tomatoes
Instructions
Degrease the saddle of rabbit.
Separate the two kidneys.
Turn the saddle open to the maximum.
Place the sun-dried tomatoes flat inside the saddle.
Peel then finely cut the garlic cloves, reserve a clove for the tomatoes.
Scatter the garlic directly over the tomatoes.
Place a small branch of sage on the tomatoes.
Close the rabbit's stomach by squeezing it a little, then turn it over.
Place 3 to 4 sage leaves on the back.
Tie the saddle to tarnish it during cooking.
Brush generously with tomato oil all over the meat.
Salt and pepper.
Cook high on your barbecue, with the bell closed, between 30 and 45 minutes
Rinse the eggplant and tomatoes.
Cut the eggplant into thin slices.
Oil a baking sheet.
Place the vegetables on the baking sheet and cook on the barbecue.
Preparation time: 10 minutes
Cooking time: 30 to 45 minutes
Number of people: 2
4 star rating: 1 review
What wine to drink with: BBQ saddle of rabbit
My favorite wine for this recipe: Aloxe Corton rouge Pinot noir grape
Temperature between 16 ° and 17 °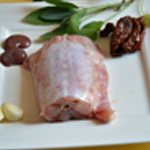 Saddle and sage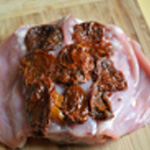 Place the tomatoes in the oil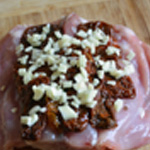 Add garlic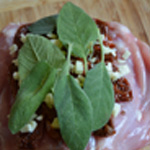 Then sage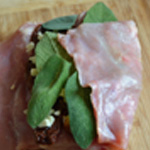 Close with the skin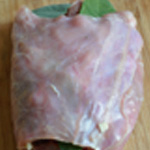 Then the other side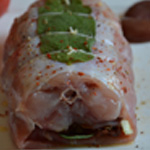 Tie up
Roast on the barbecue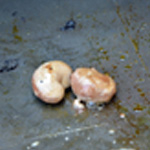 Cook the kidneys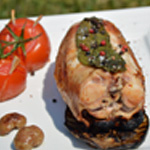 The result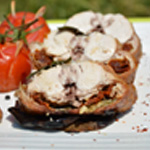 Cut the saddle