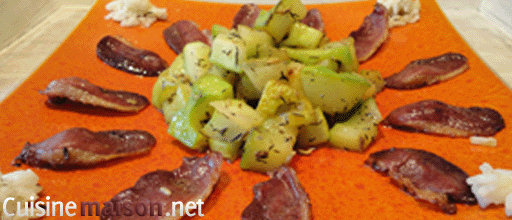 Zucchini with smoked duck breast
Duck breast, with a fatty duck, the breasts will be much more generous. How to cook zucchini – they are so abundant in our gardens this year. The best zucchini for cooking is to start in the pan, to allow it to quickly drain its water. Take a slice of smoked duck breast for this recipe and distribute it on the plate, of course you can use spicy breasts from home cooking. These courgettes with smoked duck breast are a very nice gourmet recipe, we devoured them with a lot of pleasure.
Ingredients
Zucchini recipe with smoked duck breast for: 4 people
1 kg of zucchini
200 g smoked duck breast
3 tablespoons of olive oil
2 teaspoons of thyme
1 teaspoon of fennel seed.
Salt and pepper
Instructions
Rinse the zucchini.
Peel and cut the zucchini into small pieces.
Heat a pan with olive oil, sear the zucchini, add the thyme, fennel seeds.
Salt and pepper.
Clear the center of the pan and place the duck breasts in the middle, let cook for a minute then turn them over.
Mix the zucchini with the duck juice, serve very hot, in hot plates.
Preparation time: 5 minutes
Cooking time: 10 minutes
Number of people: 4
4 star rating: 1 review
What wine to drink with: Zucchini with smoked duck breast
My favorite wine for this Bourgogne aligoté grape variety recipe: Aligoté
Temperature between 8 ° and 9 °