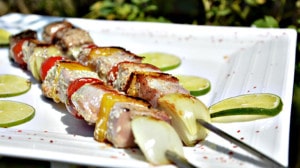 Recipe: BBQ tuna
Barbecue tuna recipe, I like this fish often children confuse tuna and meat when cooking on the barbecue. Scented with sesame seeds and just a little oiled, these skewers were divine and we had a blast, I'll do it again. The bluefin tuna is becoming rare, this time it was of good quality, very fresh with a beautiful red color. We love barbecued fish at home, plus the barbecue season in Franche Comté is rather short, so you have to take advantage of it.
Recipe ingredients
Barbecue tuna recipe for 4 people:
400 gr of fresh tuna
½ yellow pepper
1 onion
12 cherry tomatoes
1 tablespoon of sesame
1 tablespoon of sesame oil.
Salt and pepper
Instructions
Rinse the tuna, then dry it with food paper.
Cut the tuna into equal pieces.
Wash the pepper then cut it into small squares.
Peel the onion then cut into quarters.
Remove the peels from each ¼ onion.
Start assembling the skewers, starting with an onion skin.
Then a piece of tuna.
Cherry tomato, tuna, pepper, tuna, cherry tomatoes, tuna, onion… ..
Of course you can do it in another order …
Brush the tuna with the sesame oil.
Sow the sesame seeds on the oiled tuna.
Cook on the very hot barbecue plancha.
Do not overcook the tuna, normally we say rosé for tuna.
Preparation time: 10 minutes
Cooking time: 10 minutes
Number of people: 4
4 star rating: 1 review
What wine to drink with: Barbecued tuna
My favorite wine for this recipe: Saint Véran Cépage Chardonnay
Temperature between 11 ° and 13 °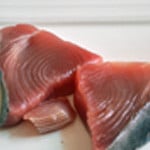 Slice the tuna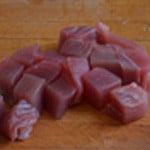 Cut into cube
Assemble the skewers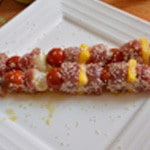 Sprinkle with sesame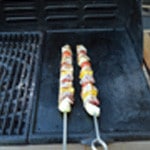 Grill