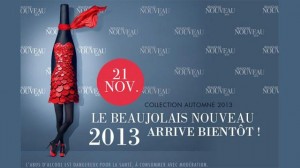 Selection: Beaujolais Nouveau
It's tomorrow, Thursday, November 21, 2013
Made from the Gamay grape variety, Beaujolais Nouveau is the result of long experience, exclusive know-how and a delicate harvest by hand. A true artisan wine, it is produced with care and precision with respect for tradition and the land. Its traditional vinification reveals all the personality of a unique wine which is ideally tasted slightly chilled.
Beaujolais Nouveau is then found in all French people and in the world, everyone can enjoy drinking this good thirst-quenching wine, greedy and easy-drinking, with a pale cherry color and a nose of red fruits, and especially banana resulting from amyl compounds. The palate is fond of carbon dioxide residues, which at times gives this wine a pearl side. It is eaten quite fresh, 13 ° C, on pork with friends.
Beaujolais Nouveau on the planet: The craze for Beaujolais Nouveau is global. Producers will therefore be able to count on exports to sell the 230,000 hectoliters bottled this year. In 2011, nearly half of the 35 million bottles of Beaujolais Nouveau were sold for export. Japan remains the leading consumer country with nearly 8 million bottles sold, ahead of the United States (2.4 million bottles) and Germany (1.3 million bottles).
Region :
Officially and legally attached to wine-growing Burgundy, the Beaujolais region nonetheless has a specificity widely recognized by use. This is also reinforced by the dynamic promotion of its wines, carried out with ardor by all those who have made Beaujolais famous throughout the world.
The Beaujolais villages and the 10 crus – including the most famous, Brouilly, Morgon, Juliénas… – invite visitors to the heart of Beaujolais vineyard to share the sweetness of a terroir and the emotion of its landscapes.
The great grape varieties: Gamay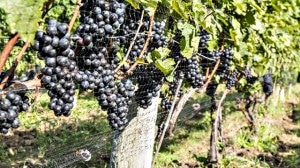 Notes for tasting:
Beaujolais Nouveau is known for its cherry red color. Fresh and tasty, with fruity aromas and floral aromas, it is a wine to be tasted (according to the terms of the local tourist authorities) at 10 ° on all occasions and at any time. The finish on the palate is long and dominated by notes of liquorice and banana.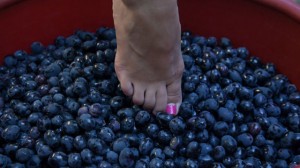 Tasting advice:
Beaujolais Nouveau is a ritual, a great pagan and popular celebration. Universal, it adapts to all countries and flows into all cultures. Simple and unpretentious, Beaujolais Nouveau can go well with most dishes and cuisines. It is shared among friends. Like all wines, it should be consumed in moderation.
– respect the law and know how to wait until midnight, whatever the time zone. No Beaujolais Nouveau before D-Day and the appointed time. To start the evening, one idea: taste the other appellations of the Beaujolais vineyard: Beaujolais-Villages and some of the 10 crus… Because Beaujolais is not just about Beaujolais Nouveau.
Conservation:
To drink within 2 years
The sources :
http://www.beaujolais.com/beaujolais-nouveau-2013/
http://www.france.fr/vins-spiritueux/le-beaujolais-ses-terroirs-et-ses-vignes
http://www.vin-vigne.com/appellation/appellation-beaujolais.html
http://www.leparisien.fr/societe/le-beaujolais-nouveau-est-arrive-14-11-2012-2321031.php
2013 Beaujolais Nouveau photo courtesy of Inter Beaujolais (Inter Beaujolais copyright) </p