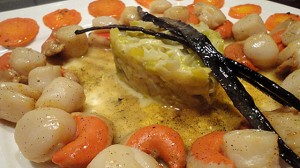 Recipe: Scallops with vanilla butter
Recipe Noix de Saint Jacques with vanilla butter for Valentine's Day, to allow a good evening between lovers, you will find below a Valentine's Day meal. Saint Jacques nut cooking recipe, I concocted this dish for Valentine's Day. Thaw the scallops overnight in the refrigerator. Always a real way to cook with vanilla butter, it delicately scents the flesh of the fish, the marriage of vanilla butter and fish makes the taste buds burst. The scallops in butter, just seared for a few minutes, they will take on color and remain soft. Here is an easy part of your Valentine's Day meal to make these scallops in butter should soften your companion. Tomorrow I will offer you the easy dessert for Valentine's Day.
Recipe ingredients
Recipe Scallops with vanilla butter for 2 people:
200 gr of scallops
2 vanilla pods
20 gr of butter
Salt and pepper
Instructions
Thaw the scallops in the refrigerator overnight.
Place the scallops on absorbent food paper.
Cover with another sheet of absorbent food paper and let relax for an hour.
Heat the butter in a pan over low heat, so that it thins gently without browning.
Split the vanilla pods in half lengthwise.
Place the vanilla pods in the pan on the butter, flesh sides on the pan.
Sear the scallops for a few minutes in the vanilla butter, increasing the heat under the pan.
Salt and pepper the nuts.
Turn the scallops over to sear them on the other side, be careful not to overcook them.
Salt and pepper the nuts.
Wet regularly with a large spoonful of butter
Assemble your plates by sprinkling vanilla butter on your scallops.
Preparation time: 60 minutes
Number of people: 2
Cooking time: 4 to 5 minutes
5 star rating: 1 review
What wine to drink with Scallops in vanilla butter
My favorite wine for this recipe: Chablis Cépage Chardonnay
Temperature between 8 ° and 10 °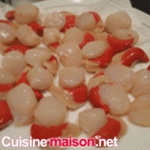 Walnut St. Jacques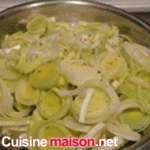 Leeks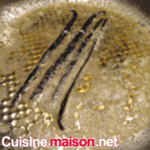 Cook the vanilla
Sear the nuts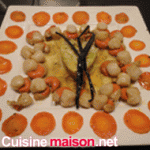 Plate