Recipe: Beef Bourguignon Recipe
Beef bourguignon recipe with a full-bodied wine, accompanied by pasta. Beef bourguignon must be cooked with red wine, however there are two methods: Beef Bourguignon with marinade in order to obtain a very tasty and very dark sauce Beef bourguignon without marinade, we use the wine after grilling the meat, the Bourguignon is more digestible. For my part, I admit that for my beef Bourguignon with marinade has so much character, that you will not remain insensitive to this thick and creamy sauce. This time we are in the fall.
Recipe ingredients
Beef Bourguignon recipe for 4 people:
1 kg of beef bourguignon
250 g of smoked bacon
3 carrots
1 bottle of Vacqueyras
2 sprigs of thyme
4 bay leaves
2 onions
1 tablespoon of olive oil
2 tablespoons of flour
2 cloves garlic
Salt and pepper
Instructions
For the marinade (if possible 24 hours in advance).
Peel the carrots and large onions
Chop them roughly.
Trim the meat (or better have your butcher do it)
Cut pieces of about 70 gr (be careful not to make pieces too big).
Place the carrots, onions and meat in a large deep dish.
Add the thyme on a branch and the 4 bay leaves.
Pour the Vacqueyras red wine (Cote du Rhône) cover the meat
Film the dish (without the film touching the wine).
Place everything in the refrigerator for 24 hours or 12 hours, according to taste
Stir several times, each time changing the protective film.
Drain the meat and vegetables.
Wipe the meat with food paper.
Reserve the wine.
Heat your cast iron casserole dish.
Grill the bacon cut into small pieces (add a tablespoon of oil if necessary).
Brown the pieces of meat for 4 to 6 minutes.
Season with salt and freshly ground pepper (the sauce will reduce, do not add too much salt at the start).
Flour the pieces of beef, stirring constantly.
Add the pickled vegetable garnish.
Cook for another 3 to 4 minutes.
Add the red wine from the marinade and the crushed garlic cloves.
Bring to a boil.
Cover the casserole dish and cook for 2 to 3 hours over very low heat, or better yet in the oven at 160 ° for 3 hours.
Preparation time: 30 minutes
Cooking time: 2 to 3 hour (s)
Number of people: 4
4 star rating: 1 review
What wine to drink with: Beef bourguignon recipe
My favorite wine for this recipe Vacqueyras (red) Grape varieties: Cinsault, Grenache noir, Mourvedre, Syrah)
Temperature between 15 ° and 16 °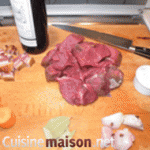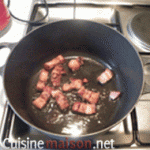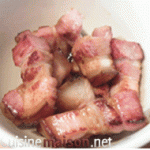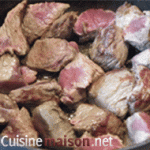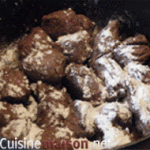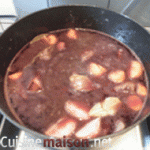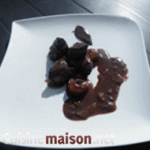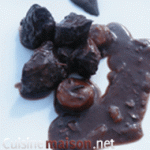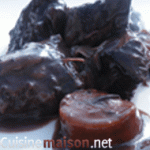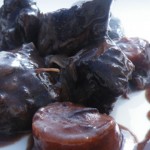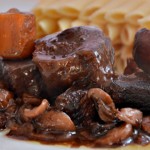 </p