Recipe: beetroot in a glass
Beetroot recipe in verrine, another verrine recipe, normal it smells of spring. Savory verrines recipes for a change, I sweetened my beets with mascarpone. Lightly flavored with apple cider vinegar, I left whole beets for the first floor, just with a little oil and salt and pepper. The salty verrines remain my favorite, they allow us to play with fish, vegetables, meats, you will like my beetroot in a verrine.
Recipe ingredients
Recipe Beetroot in a glass for 4 people
3 cooked beets
2 cloves garlic
3 sprigs of parsley
2 teaspoons of olive oil
2 teaspoons of apple cider vinegar
Instructions
Peel the garlic.
Remove the leaves from the parsley.
Mix the parsley and garlic.
Add the 2 peeled beets, then mix again.
Pour in the oil and vinegar, then mix again.
Season with salt and pepper, then mix again.
Pour 3 tablespoons per verrine.
Tamp down by tapping the verrines on a tea towel.
Mix the last beetroot with 1 teaspoon of vinegar.
Salt and pepper.
Add 2 tablespoons of mascarpone and mix with the beetroot.
Pour the mascarpone repair over the beet in the verrine.
Shake the verrines lightly to even out.
Place a dab of mascarpone in each verrine over the mascarpone sauce.
Preparation time: 20 minutes
Cooking time: 0 minutes
Number of people: 4
4 star rating: 1 review
What wine to drink with: Beetroot in a glass
My favorite wine for this recipe: Bourgueil rouge Cépage Cabernet franc; Cabernet Sauvignon
Temperature between 15 ° and 16 °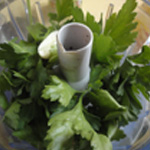 Parsley
Parsley and garlic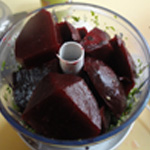 Mix the beets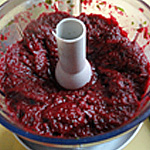 Mix fine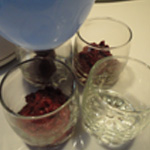 Fill the verrines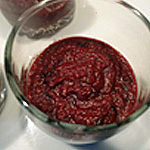 Zoom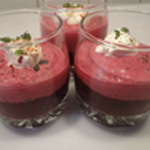 3 glasses