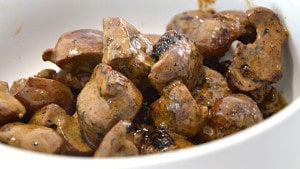 Recipe: Beef kidney with balsamic vinegar
Beef kidney recipe with balsamic vinegar. As you've probably noticed, we love kidneys. I wanted to change the classic recipes a bit and I'm a big fan of balsamic vinegar-based sauces. So today it will be beef kidney with balsamic vinegar. Kidneys at home are almost an institution, I have to make them when everyone is there, otherwise it triggers discontent …. Often the butchers can adorn them and in this case it simplifies the recipe. A nice creamy sauce with this balsamic vinegar, in addition it divinely perfumes the beef kidneys.
Recipe ingredients
Beef kidney recipe with balsamic vinegar for 3 people:
1 beef kidney
25 cl Heavy cream
2 tablespoons of frying oil
10 cl of dry white wine
3 large tablespoons of balsamic vinegar
Salt and pepper mignonette 5 berries
Instructions
Trim the kidneys or have them prepared by the butcher.
Cut the kidney in half.
Remove the fat that coats the kidney.
Cut around the fat, avoid touching the kidney with the knife.
Cut the kidney lengthwise into three parts.
Slice the kidney into pieces according to the shapes.
Heat the pan with the oil
Sear the pieces of kidney in the pan with very hot oil.
Rinse the grilled kidneys under the tap.
Rinse the pan, then heat the rest of the oil.
Sear the kidneys in hot oil for a few minutes
Add the balsamic vinegar
Pour in the white wine and the liquid cream and cook for 35 minutes.
Salt and pepper.
Preparation time: 30 minutes
Cooking time: 30 minutes
Number of people: 4
4 star rating: 1 review
What wine to drink with: Beef kidney with balsamic vinegar
My favorite wine for this recipe: Beaujolais Cépage Gamay
Temperature between 10 ° and 13 °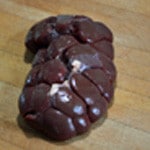 Rinse the kidney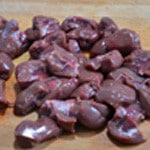 Trim the kidney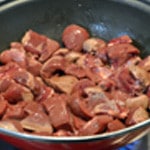 Sear the kidney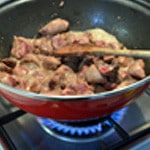 Deglaze with the vinegar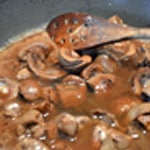 Add white