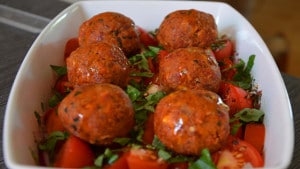 Recipe: Beef meatballs with chorizo
Chorizo beef meatballs recipe, I loved this new way to consume chorizo, grill the chorizo before just a few minutes to extract a little fat, to lighten the recipe a bit. A complete dish with these beef meatballs with chorizo I loved these baked meatballs and especially the ease of this recipe. A recipe for beef and chorizo lovers, I had chosen it mild but next time, I will hang a spicy chorizo, for my beef meatballs with chorizo, a beautiful dish to receive friends in a friendly atmosphere.
Recipe ingredients
Chorizo beef meatball recipe for: 6 people
500 gr of ground beef
250 gr mild or strong chorizo
1 kilo of tomatoes
2 large onions
½ red onion
3 cloves of garlic
2 tablespoons of milk
1 tablespoon of olive oil
20 basil leaves
1 egg
50 gr breadcrumbs
50 gr grated cheddar
1 teaspoon of paprika
2 teaspoons of ground cumin
Instructions
to preheat the oven at 230 °
Cut the chorizo lengthwise, then dry grill it in a pan just so that it rejects the fat.
Let the chorizo cool.
Collect a teaspoon of fat, then sear the red onion and minced garlic for just a few minutes.
Chop the grilled beef and chorizo, onions and garlic.
Crack the egg over the minced meat, add the spices, cheese and breadcrumbs.
Mix by hand.
Season with salt and pepper, taste and rectify if necessary.
Make balls of about 50 gr.
Brush a dish that goes in the oven.
Thinly slice the 2 onions, then scatter them in the dish .
Rinse then cut the tomatoes into quarters and arrange them on the onions.
Finely slice the basil and sow it over the tomatoes.
Place the meatballs on the vegetables.
Bake in a hot oven for 15 minutes.
Preparation time: 30 minutes
Cooking time: 15 minutes
Number of people: 6
4 star rating: 1 review
What wine to drink with: Beef meatball with chorizo
My favorite wine for this recipe: Saint Emilion varietal Cabernet Franc and Sauvignon and Merlot
Temperature between 15 ° and 16 °
Origin of the recipe: flavor magazine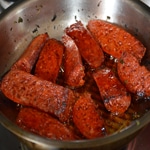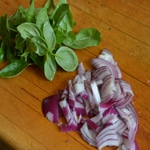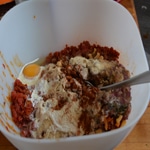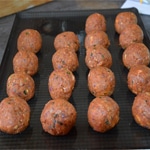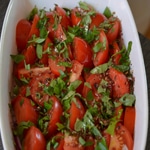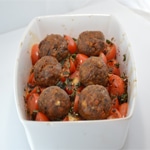 <img src="/wp-content/uploads/2021/09/7750047724085172833.jpg" class="aligncenter"