Cordon bleu with Comté and Luxeuil ham recipe
A nice Franc Comtoise recipe, the ham from Luxeuil and of course the Comté, which is the most consumed cheese in France, please. This recipe for Cordon bleu with Comté and Luxeuil ham, is one of my first recipes, one day I will have to decide to redo the photos. But the life of a blogger does not leave me much time, in any case a lot of memories with this Cordon Bleu recipe with Comté and ham from Luxeuil and two Thibauts, thank you for this pleasant moment.
Cordon bleu recipe with Comté cheese and Luxeuil ham for 4 people
Ingredients :
8 very thin Chicken Cutlets
16 ½ slices of Luxeuil ham
32 county slices about 200 g
80 g mouliné Comté cheese
20 cl of fresh cream
20 g butter
1 tablespoon of olive oil
Salt and pepper.
Instructions
Start assembling your blue cords:
On the escalope place 4 slices of Comté
Add a slice of ham
Grate 20 g of Comté
Add a slice of ham
Store 4 slices of counts and the other cutlet
Close your cords with two toothpicks at each end (the ideal is to have large toothpicks, so that they can be removed before serving).
Repeat this operation to obtain the desired number of blue cords.
Brown the butter and oil in a very hot pan, leave to color on each side and put the blue beads in a buttered dish add the crème fraîche
to bake at 180 °, for 5 to 10 minutes.
Preparation time: 20 minutes
Cooking time: 5 to 10 minutes
Number of people: 4
4 star rating: 1 review
What wine to drink with: Cordon bleu with Comté and Luxeuil ham
My favorite wine for this recipe Arbois (red) Grape varieties: Poulsard
Temperature between 10 ° and 11 °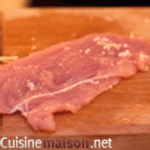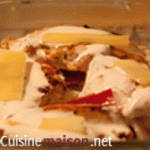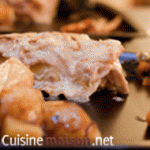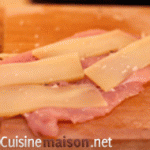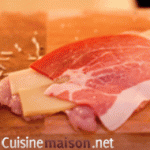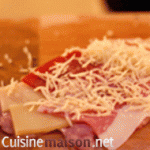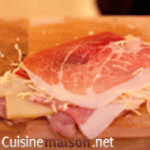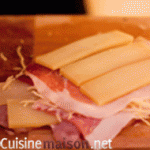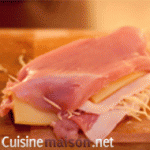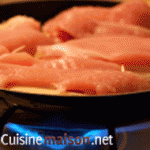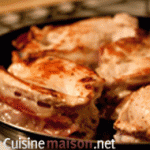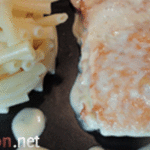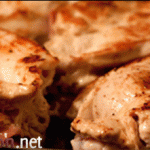 Thanks to Thibaut for the pictures: www.thibautbouvier.fr