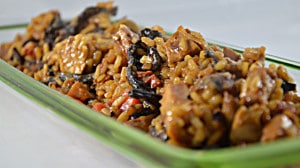 Recipe: Rabbit and mushroom risotto
Rabbit risotto and mushrooms, we still had the rabbit's thighs two thighs for three, it was a bit tight. So risotto with rabbit is a change from the traditional risottos. Of course we couldn't help but add Parmesan, to make it very creamy. Rabbit and mushroom risotto deliciously flavored with dried mushrooms, we really enjoyed it.
Recipe ingredients
Rabbit and mushroom risotto recipe for 3 people:
250 g of arborio rice
2 rabbit legs or 250G boneless rabbits
40 g of dried mushrooms
2 large shallots
1 carrot
2 cloves garlic
10 black pitted olives
10 green pitted olives
5 petals of sun-dried tomatoes
1 tablespoon of olive oil
25g butter
1 teaspoon of paprika
½ teaspoon ground ginger
½ teaspoon of salt
1 magic vegetable broth
125 g Parmesan powder
Instructions
Pour the dried mushrooms into a salad bowl and cover with lukewarm water.
Peel then finely chop the shallots.
Peel then crush the garlic cloves.
Cut the green and black pitted olives into 4.
Heat a pan with the oil and butter.
Sear the shallots.
Add the pressed garlic at the end.
Filter the water from the mushrooms and reserve the water.
Sear the drained mushrooms.
Add the rice then let it lightly toast.
Pass the water from the mushrooms to the Chinese.
Cover with the mushroom water.
Add the dried tomatoes at the end of the cooking time.
Sprinkle with the spices.
Pour in the Parmesan 5 minutes before serving.
Preparation time: 15 minutes
Cooking time: 18 minutes
Number of people: 3
4 star rating: 1 review
What wine to drink with: Rabbit risotto
My favorite wine for this recipe: Piemont Rouge Grape Nebbiolo
Temperature between 17 ° and 18 °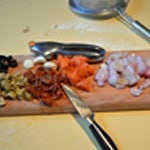 Prepare the vegetables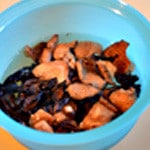 Dip the mushrooms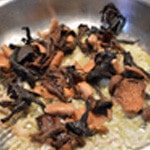 Sear the mushrooms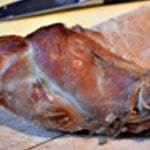 Rabbit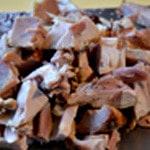 Bone the rabbit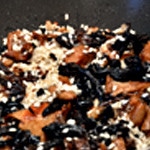 Add the rice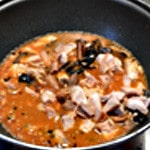 Wet with the juice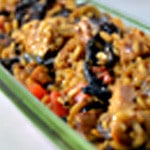 Zoom