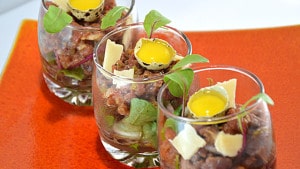 Recipe: Beef tartare in a verrine
Beef tartare recipe in verrine, a recipe cut with a knife. I like meat sliced this way, don't chop it up. Of course, it is your butcher who will select the piece of choice for this tartare. It must be tender but above all very tasty. Raise your tartare well, it should not be bland, use the sauces knowing that they are already salty. A great way to start a meal, of course if you're entertaining meat. This recipe was for my goddaughter and her husband who are real beef predators. I will not hide from you that I did not respect the weight of my beef tartare in a verrine with my two kitties. I like to eat a tartare during the day with good homemade fries. With us it's grandpa René the king of fries, he has made it one of his specialties.
Recipe ingredients
Beef tartare recipe in verrine for 3 people:
300g minced meat
2 shallots
1 clove of garlic
1 tablespoon of olive oil
1 tablespoon of Worcester sauce
3 drops of Tabasco
3 small pickles
1 tablespoon of rice vinegar
½ tablespoon of capers
½ lime
¼ nutmeg
Salt and pepper
2 tablespoons of walnut oil
1 tablespoon of walnut vinegar.
3 quail eggs
A little lamb's lettuce
Instructions
Trim the beef then cut into strips.
Then cut into small cubes.
Crush the diced beef.
Peel the shallots, then finely chop them.
Peel the garlic.
Coarsely mix the shallot, garlic, pickles, capers
Combine all the ingredients in a bowl.
Squeeze the lemon half over the meat.
Pour in the olive oil, rice vinegar and Worcester sauce
Add the Guérande fleur de sel.
Season with pepper and grate the nutmeg.
Taste and adjust seasoning if necessary.
Wash and rinse the lamb's lettuce.
Dry the salad with cling film.
Pour the walnut oil and walnut vinegar over the salad, mix.
Line the bottom of your verrines with lamb's lettuce.
Add the beef tartare to the salad.
Break the eggs, keeping the yolk and half a shell.
Place half an eggshell with the yolk in each verrine.
Pour into the verrines over the lamb's lettuce.
Preparation time: 15 minutes
Cooking time: 0 minutes
Number of people: 3
4 star rating: 1 review
What wine to drink with: Beef tartare in a verrine
My favorite wine for this recipe: Château neuf du pape Grape variety: Syrah; mourvèdre; black grenache
Temperature between 16 ° and 18 °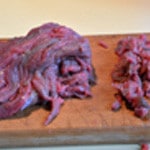 Cut the meat with a knife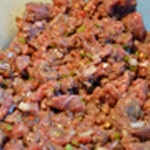 Salt and pepper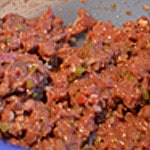 Mix with all the ingredients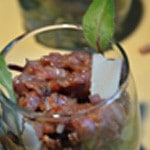 Install in the verrine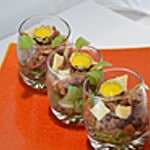 Zoom