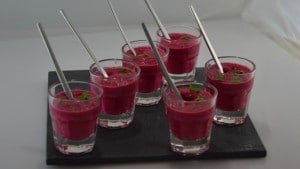 Recipe: Beetroot and cream
Summary: Beetroot and cream recipe, ideal to accompany the aperitif of large meals, it will change peanuts or olives. I love its taste and its color, they capsize me these beautiful beets that arrive directly from the garden of grandma Ginette, thank you for thinking of us. I had a friend who doesn't eat vinegar and mustard, so I replaced her with lemon juice. Otherwise I think I would have used balsamic vinegar, but frankly it was really great. In any case, a great success which had a great effect when I presented it at the table. Full of eyes and frankly the taste was there, my friends discovered new flavors of beetroot and that's good. As for me, I am also satisfied with my beetroot and cream.
Recipe ingredients:
Beetroot and cream recipe for 8 people:
3 red beets
1 raw garlic
4 drops of Tabasco
15 cl of liquid cream
½ teaspoon of cardamom powder
1 teaspoon of olive oil
1 teaspoon ground pepper
4 bay leaves.
1 tablespoon of flaked almonds.
Instructions
Preheat the oven to 200 °
Place the red beets on aluminum foil, previously oiled.
Add the rest of the oil to the beets.
Sprinkle with peppercorns.
Place the bay leaf.
Close the aluminum tightly.
Bake in the hot oven for 2 hours.
Roast the almonds in a hot pan.
Meanwhile, shell the cardamom nuts to remove the seeds.
Pound the seeds with a mortar, so that only dust remains, pass through fine Chinese.
Peel the red beets.
Blender the cooked red beets with the cardamom powder.
Add ½ the juice of a lemon.
Cream gradually to keep the taste of the beets.
Adjust seasoning.
Pour into the siphon and refrigerate for at least two hours, ideal to prepare the day before.
Siphon on a parsley gelatin just before serving.
Garnish with a few flaked almonds.
Preparation time: 10 minutes
Cooking time: 120 minutes
Number of people: 8
4 star rating: 1 review
What wine to drink with: Beetroot and cream
My favorite wine for this recipe: Auxerrois blanc d'Alsace Cépage Auxerrois
Temperature between 08 ° and 10 °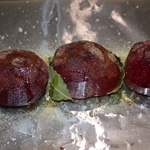 Peel the red beets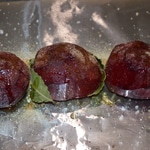 Salt and pepper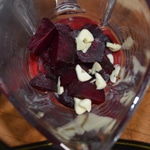 Mix with garlic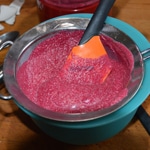 Switch to chinese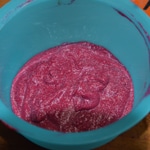 Add the cream