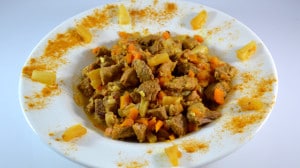 Recipe: Pork curry
Pork curry recipe, a recipe close to Hindu cuisine, a promotion in my hyper market caused this recipe. It's been a few months since I kept this recipe under the elbow. The pork with the chicken are meats which remain in reasonable prices. I love all these meats which simmer slowly in spices from elsewhere. I like this exotic side, with this clever mix of sweet and savory. Pineapples add a bit of crunch to this chewy dish. Pork curry is an inexpensive dish, yet when tasted with, for example, a very white rice, it is an explosion in the mouth from the first bites with these spices which have, in addition, colored the sauce. If you find fresh pineapple, slice it at the last moment and add the 5 minutes before serving, just that it is not cold but at dish temperature.
Recipe ingredients
Pork curry recipe for 20 people:
4 kg of pork loin
6 carrots
3 large onions
340 gr net of canned pineapple
3 tablespoons of Nuoc Mam sauce
15 cl of soy sauce
4 cloves of garlic
2 tablespoons of double counter tomato
5 teaspoons of masala (to find it, I advise you to get it in an Asian grocery store, Indian spices side)
1 tablespoon of flour
1 tablespoon of ground turmeric
2 tablespoons of curry
3 boxes of coconut milk
Salt
Oil
Instructions
Bone the loin, reserving the bones.
Peel then thinly slice the onions.
Peel the garlic and roughly chop.
Heat the oil in a wok over medium heat.
Grill the bones, then set them aside.
Add curry and turmeric, stir constantly for 1 minute.
Add the pieces of pork, mix and leave to color.
When the meat begins to brown
Add the onion rings and garlic.
Let the onions lightly tint.
Sprinkle the flour lightly over the meat and onions.
Let the flour toast.
Add the double tomato paste.
Pour in the coconut milk.
Season with Nuoc Mam sauce and soy.
Bring the mixture to a boil.
Add the pineapples.
Simmer for an hour.
Preparation time: 50 minutes
Cooking time: 1 hour (s)
Number of people: 20
5 star rating: 1 review
What wine to drink with: Indian pork curry.
My favorite wine for this recipe: Beaujolais Côte de Brouilly gamay grape
Temperature between 13 ° and 14 °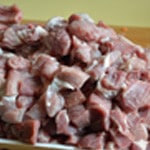 Trim the meat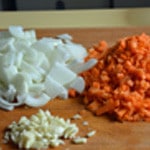 Prepare the vegetables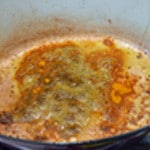 Sear the spices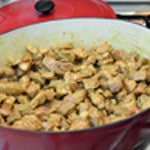 Add the meat to the spices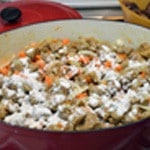 Lightly flour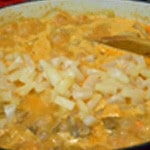 Add the pineapples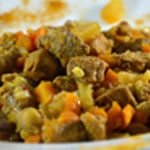 Zoom<img src="/wp-content/uploads/2021/09/1525819433843700868.jpg" class="aligncenter"