Macaroni recipe with salmon and scallops
Summary: Macaroni with salmon and scallops flavored with peppercorns coarsely reduced in a mortar. A nice plate of macaroni with fish and pepper. At home it is always a great moment when preparing a dish of dough, it is amplified when I speak of gratin. A diabolical marriage of dough and fish, the Saint Jacques were particularly beautiful in size, impossible to resist. macaroni recipe with salmon and scallops for a complete meal, which we enjoyed with great pleasure.
Macaroni recipe with salmon and scallops for 4 people
Ingredients
400 g of salmon
8 scallops
16 cherry tomatoes
1 onion
2 shallots
2 garlic
1 tablespoon of peppercorns
1 teaspoon of paprika peppers
1 ½ bunch of flat-leaf parsley
2 tablespoons of olive oil.
Instructions
:
Put the peppercorns in a mortar to reduce coarsely.
Peel the garlic, the shallots then the onion, then slice them.
Wash and dry the flat parsley with food paper, then finely chop it with a knife.
Rinse the cherry tomatoes, cut them in half.
Heat a large pan with the olive oil.
Enter the cherry tomatoes flesh sides, without turning them, keep warm.
Add the onions, shallots and garlic and the crushed pepper to the pan.
Sear the salmon on each side without overcooking it.
Enter the scallops on each side.
Salt
Serve immediately.
Preparation time: 20 minutes
Cooking time: 10 minutes
Number of people: 4
4 star rating: 1 review
What wine to drink with: Macaroni with salmon and scallops
My favorite wine for this Brouilly Grape variety recipe: Gamay
Temperature between 12 ° and 13 °
Thank you to Rosabel de Vesoul store for its dishes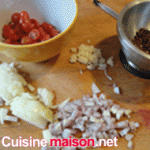 Ingredients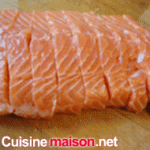 Slice the salmon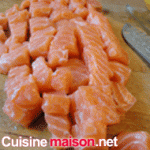 Cut into cube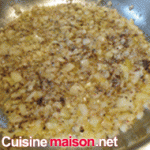 Grill onion and pepper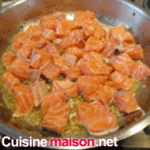 Sear the salmon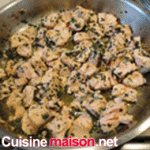 Add the flat-leaf parsley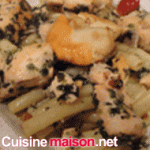 Plate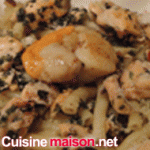 Zoom