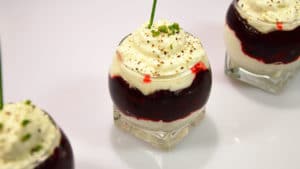 Recipe for candied tomatoes in a glass
Summary . When we tasted with my brother, I let him get it. We went from beetroot to cherries, a nice surprise in the mouth with these tomatoes in verrine. The tomato pieces were so candied that they looked like cherries. I really liked this recipe, full of flavor. I had bought my tomatoes almost a week in advance, so that they were very ripe. I will do this recipe again, which cooks gently over a low heat. Of course, do not forget to stir regularly, otherwise the candied tomatoes in the glass will stain the bottom of the pan.
Recipe for candied tomatoes in a glass for 6 people:
Ingredients :
2 large ripe tomatoes
1 tablespoon of heavy cream
100 g of mascarpone
1 egg
50 g sugar
2 cloves garlic
2 shallots
10 cl of wine vinegar
10 cl of balsamic vinegar
100 g of country loaf bread
6 sprigs of chives
Instructions
Rinse the tomatoes under cold water.
Cut in half, seed, then roughly crush with a knife.
Peel the shallots and garlic, then finely chop.
Place the tomatoes in a saucepan with the chopped shallots and garlic.
Add the sugar and vinegars and leave to stew for 1 hour.
Add the cream at the end of cooking
Salt and pepper.
Let cool.
Separate the white from the egg yolk.
Whip the white into fairly firm snow.
Mix the yolk with the mascarpone.
Add the stiff eggs to the mascarpone preparation.
Salt and pepper.
Fill half of the verrines.
Place the tomato compote on the height of 1 cm.
Cover with the rest of the mascarpone.
Plant a sprig of chives on each verrine.
Chisel 3 chives with a scissors directly on the verrines.
Preparation time: 10 minutes
Cooking time: 60 minutes
Number of people: 6
4 star rating: 1reviews
What wine to drink with: Candied tomatoes in a glass
My favorite wine for this Côtières de Nîmes recipe Grape varieties: Carrignan, cinsault, Grenache noir
Temperature between 15 ° and 16 °
Source: Saveur magazine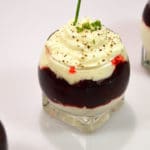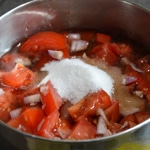 Roast the tomatoes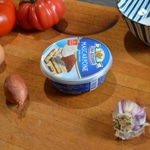 Ingredients