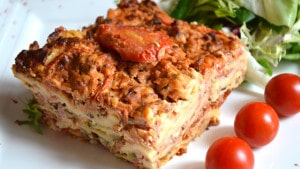 Recipe: Chicken and Mushroom Lasagna
Chicken and mushroom lasagna recipe. I took advantage of a great promotion on chicken thighs to make these homemade lasagna. Nothing is easier to make than fresh pasta for your lasagna, they will be deliciously soft with low cooking in the oven, no more than 3/4 of an hour at 170 °. And you will be pleasantly surprised with these chicken and mushroom lasagna. Cooking chicken thighs in the oven will allow you to remove all the fat from the chicken. Always with a base of peeled tomatoes the sauce will be flavored with the grilled mushrooms, a lot of flavor in this lasagna dish, we loved it.
Recipe ingredients
Chicken and mushroom lasagna recipe for 20 people:
5 kg of chicken thighs (21 thighs)
2 tablespoons of home cooking salt for poultry
1 kg of frozen and sliced mushrooms
2 tablespoons of olive oil
2 heads of garlic
1 tablespoon of paprika
1 tablespoon of shallot remoulade
4 boxes of peeled tomatoes
4 g of salt for the tomato sauce
1 kg of zucchini
1 kg of chopped onions
1 tablespoon of double tomato paste
1 tablespoon of harissa
Instructions
Bake the chicken thighs in the oven at 150 ° for 1 hour 20 minutes.
Sear the onions with a little chicken fat.
Discard the water and continue as you grab them.
Peel the garlic then press it.
Add the garlic to the mushrooms.
Place the onions in an ovenproof dish to add a little chicken fat.
Bake in a hot oven at 200 ° for 1 hour
Same operation with zucchini.
Cook the peeled tomatoes in a large Dutch oven with the parsley
Add the harissa and the tomato puree.
Let reduce for an hour.
Add the onions.
Mix with a hand blender.
Adjust seasoning.
Chop the chicken meat and add to the tomato sauce.
Bake the lasagna at 170 ° for 45 minutes.
Preparation time: 90 minutes
Cooking time: 45 minutes
Number of people: 20
4 star rating: 1 review
What wine to drink with: Chicken and mushroom lasagna
My favorite wine for this recipe: Anjour rouge Grape variety Cabernet franc and Sauvignon
Temperature between 12 ° and 16 °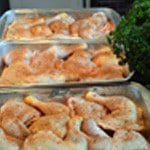 Season and salt the chickens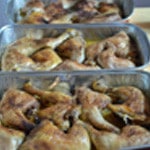 Cook the chicken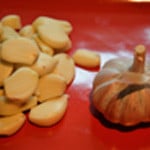 Peel the garlic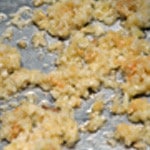 Sear the garlic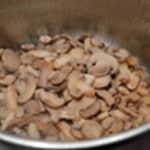 Add the mushrooms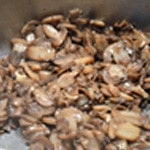 Sear the mushrooms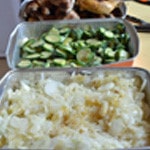 Peel the onions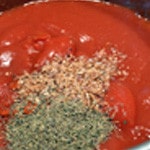 Simmer the tomato sauce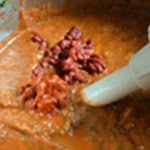 Add the concentrate
Chop the meat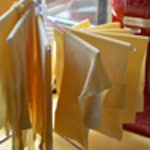 Make the dough<img src="/wp-content/uploads/2021/09/3289274368416410077.jpg" class="aligncenter"