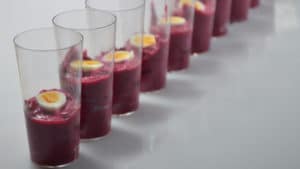 Beetroot Verrine with Boursin Recipe
You are going to tell me another beetroot verrine, well yes, a new idea, lighter and different with a very particular flavor, I loved it. No cream for this recipe just cheese, good !!! I put Boursin, because I had it in my fridge, but a good cream cheese will do. I really like the beetroot, it colors the verrines in an incomparable way. But also and above all its flavor, slightly sweet, barely spiced up, this beetroot verrine with Boursin to please the whole family, everything was eaten in a few minutes, no I should say devoured. Okay this time I used already cooked beets, but the next time I stew them in the oven and there I'm sure I will gain flavor. Do not hesitate to taste while you make the verrines and adjust the seasoning of the beetroot verrine with Boursin.
Beetroot verrine recipe with Boursin for 13 x 9 cl verrines:
Ingredients
0.500 kg of cooked beetroot
150 g of Boursin or cream cheese
7 quail eggs
4 drops of Tabasco
1 clove of garlic
½ tablespoon of balsamic vinegar
2 tablespoons liquid cream
Salt and pepper
Instructions
Cook the quail eggs in a large volume of simmering water for 3 minutes.
Cool the eggs in a large volume of cold water, then peel them.
Peel then cut the beets.
Peel the garlic clove.
Put all the ingredients in a blender, mix to mix well.
Taste, adjust the seasoning, salt and pepper.
Pour into the verrines without touching the edges.
Slice the quail eggs in half, then place half an egg in the center of the verrine.
Preparation time: 25 minutes
Cooking time: 0 minutes
Number of people: 13 verrines
4 star rating: 1 review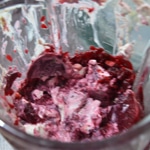 Mix the beets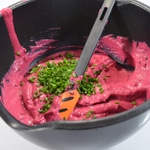 To mix together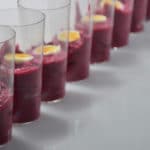 What wine to drink with: Beetroot verrine with Boursin
My favorite wine for this recipe: Crémant de Die brut Clairette and Muscat en petit grain
Temperature between 6 ° and 8 °
Crémant de Die Brut
With its barely pale green gold color, we already like it at first glance, I especially like the delicacy of these bubbles. Very fresh it lets itself slide during the aperitif, immediately the citrus fruits seem dominant at the start then it is other flavors that come to tickle us at the Chicken house, we find intense aromas of Lychee, I would have said almonds or white flowers.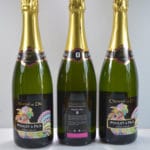 Bottles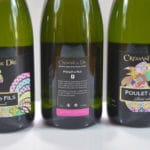 Zoom
Cave POULET & Fils EARL
Clairette, Crémant and Coteaux de Die
La Chapelle district – 26150 PONTAIX
Tel: 04 75 21 72 80 Email: cave_alain_poulet [at] yahoo.fr