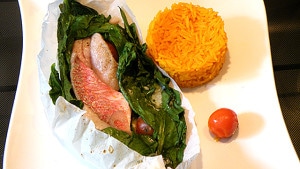 Recipe: Red mullet fillet with spinach
Spinach red mullet fillet recipe, an easy recipe, en papillote, we love spinach recipes, they are full of vitamins. Cooking red mullet in the oven, cooking without much fat, where the fish will be flavored in the foil. The red mullet fillet in spinach, cooked in the oven for 10 to 15 minutes depending on the desired taste. I particularly like fish with light cooking. A quick easy recipe ideal for housewives who don't have much time. The spinach brings a little acidity, to the happiness of all.
Recipe ingredients
Spinach red mullet fillet recipe for 4 people:
400 g red mullet fillet
400 g spinach
12 cherry tomatoes
40g butter
12 sprigs of rosemary
4 tablespoons of white wine
4 tablespoons of fluid cream (optional)
Salt and pepper
Instructions
Wash the spinach and cherry tomatoes with plenty of water.
Stem the spinach, only the leaves should be left
Cut 4 equal squares (30 cm by 30 cm) of parchment paper.
Check all threads to remove small bones.
Start by placing your spinach in the foil, then the red mullet fillets.
Then add the tomatoes, salt and pepper to taste.
Close the edges on each side, add the fluid cream and the spoon of white wine.
Close the top of your papillote and place it in an ovenproof dish.
Bake 12 minutes in a hot oven at 200 °.
Serve with colored rice, cutting off the top of the foil.
Preparation time: 15 minutes
Cooking time: 12 minutes
Number of people: 4
4 star rating: 1 review
What wine to drink with: Filet of red mullet with spinach
My favorite wine for this Côtes du Rhône (Red) recipe (Grape varieties: Cinsault, Grenache noir, Mourvèdre, Syrah)
Temperature between 14 °