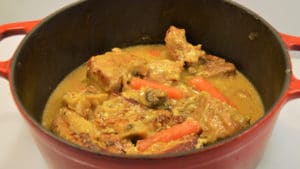 White wine veal blanquette recipe
Summary : This is my childhood, I remember each time my mother prepared us a blanquette of veal in white wine, always accompanied by white rice; what happiness !!! It seems so far and so close to me at the same time, thank you mom for all this shared happiness. I chose a quality veal from the butcher's farm that we have in Vesoul, to make this veal blanquette in white wine. A tender meat with a few pieces a little fatty, tasty and wonderful, I did not use flour because I was hosting a friend who is allergic to gluten, but cornstarch sauceline was perfect to give my sauce a creaminess. The Armagnac has slightly flavored the meat, giving it a rather particular flavor. You will love my veal blanquette in white wine and consume it without moderation. I immediately thought of my Clos du Roi Chardonay, a delicious combination to flavor the sauce with this wonderful white.
Recipe of veal blanquette in white wine for 8 people:
Ingredients
40 g salted butter
2 tablespoons of olive oil
1 kg of blanquette with bone
1 kg of boneless blanquette
1 small red onion
5 rounds of peppercorns
2 cloves garlic
150 g button mushrooms
115 g baby carrot
40 cl of white Burgundy
3 cl of Armagnac
50 g leek white
35 cl of liquid cream
Instructions
Heat the butter and olive oil in a cast iron casserole dish
Sear the meat in the foamy butter for 5 minutes.
Season generously with salt and pepper
Turn the meat over then sear for another 5 minutes
Season generously with salt and pepper.
Let the meat lightly brown.
Flambé in L'Armagnac at the end of cooking.
Then pour 35 cl of white wine, let boil for 2 minutes.
Add the liquid cream.
Brush the button mushrooms, then cut them in 4 and add to the meat.
Add two cloves of garlic without peeling it, just remove the dry part of the skin.
Cut the leek into julienne, then rinse and drain, then add to the meat.
Simmer for 2 hours in very small, covered casserole dishes.
Remove the meat once cooked and adjust the sauce.
I used sauceline to thicken it a bit, in fact I was getting someone allergic to gluten.
Just before serving add the rest of the wine, which will divinely flavor your sauce.
Preparation time: 30 minutes
Cooking time: 2 hours 30 minutes
Number of people: 4
4 star rating: 1 review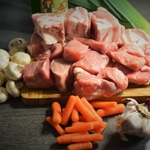 Ingredients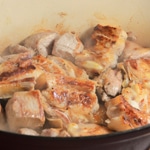 Sear the veal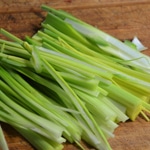 Cut the leeks into sticks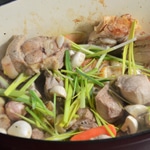 Pour the wine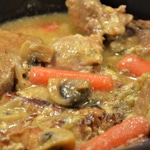 Zoom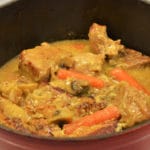 What wine to drink with: Blanquette of veal in white wine
My favorite wine for this recipe: White Burgundy Coulanges la Vineuse AOC cuvée Charly 2015 Grape variety Chardonnay
Temperature between 11 ° and 13 °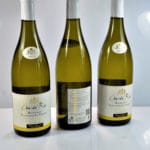 Cuvée Charly 2015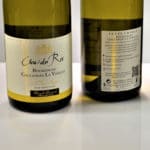 Zoom
Partnership with the Clos du Roi at Coulanges la Vineuse in Yonne
A thought to all those connected from France or abroad in love with French cuisine and these wines, here is a great opportunity for you to buy a quality wine, without any risk, to accompany my recipe for veal blanquette with white wine. I selected this Burgundy wine from the Clos du Roi "cuvée Charly 2015" in Coulanges la Vineuse after tasting it, I loved it. I really like the whites of Burgundy and particularly the Chardonnay. With its color with brilliant golden yellow reflections, very fresh with aromas of white fruits. The grapes sorted and harvested by hand, in order to select the best and the long fermentation in oak barrels, allow this beautiful cuvée to have all the soul of Chardonnay. Be careful not to drink it too cold, I like it at 13 °, you just need to take it out of the refrigerator an hour before consuming it.
Bourgogne Coulanges la Vineuse AOC Cuvée Charly 2015
The King's Clos
17 rue André Vildieu
89580 Coulanges Vineuse
The King's Clos
Phone 03 86 42 25 72 </p