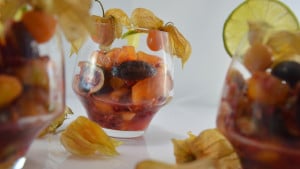 Exotic fruit salad recipe
Instructions
Exotic fruit salad recipe, ideal after our morel fondue. I wanted a light dessert, she was welcome. A beautiful recipe full of vitamins, I love these generous fruits with all their colors and their particular and juicy tastes. Exotic fruit salad, just plain, no sugar needed, fruits are enough. Full of eyes, full of mouth, exotic fruit salad, a marvel and so easy to make. Of course, the most greedy can add an old agricultural rum in moderation. I didn't put pineapples because they weren't ripe enough. In any case, congratulations to the Super U of Vesoul for all these exotic fruits offered mature, what happiness. Remembrance of 2015
Recipe ingredients
Exotic fruit salad recipe for 6 people:
1 ripe mango
4 kiwis
2 persimmons
8 small figs
100 g of physalis
6 black grapes
2 ripe pomegranates
Instructions
Peel the mango, then cut it around the pit and then into small cubes.
Peel the kiwis, then cut into slices, then finally into cubes.
Wash the persimmons, then cut into small cubes.
Slice the small purple figs into eighths after rinsing them.
Rinse the black grapes.
Reserve 6 physalis for decoration, rinse the others and add to the salad.
Cut the pomegranates in half, then scrape with a spoon to extract the red fruits
Gently mix all the fruits.
Pour into the verrines using a funnel to protect the edges of the verrines.
Place a physalis on each verrine.
Refrigerate for at least two hours before serving.
Preparation time: 20 minutes
Cooking time: 0 minutes
Number of people: 5
4 star rating: 1 review
What wine to drink with: exotic fruit salad
My favorite wine for this recipe: Loupiac Grape variety: Sémillion, Sauvignon blanc, Muscadelle
Temperature between 06 ° and 08 °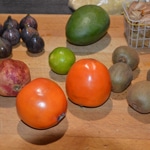 The fruits
Cut the fruit