Here, we love lemon and its acidity! With these Lemon Chicken Skewers and lemongrass stems that flavored the meat to the core, this recipe smells so much of spring with these flavors and scents that they didn't last long on the table. Skewers full of freshness !! the gourmet peas bring green to these lemon chicken brochettes and, in addition, a little crunchy side, leaving no one indifferent. With these beautiful days, it is the feast of barbecues; us, it is every evening, so it is imperative to bring vegetables to our skewers, this time it is the gourmet peas in the spotlight and the lemon; therefore, with these Lemon Chicken Skewers, acidity is invited to our table for the pleasure of all.
Lemon Chicken Skewers Recipe for 2 people
Ingredients
160 grams of chicken fillet.
½ organic lemon
1 tablespoon of olive oil
1 tablespoon chopped chives
12 snow peas
2 stalks of fresh lemongrass
Salt and pepper
Instructions
Slice the chicken into small cubes then add it to a bowl
Zest the lemon over the chicken.
Squeeze the juice from the lemon.
Add the chives and add it to the chicken.
Pour in the olive oil.
Season generously with salt and pepper.
Mix the preparation.
Peel then slice the shallot in half.
Assemble the brochettes alternating with the vegetables and meat.
Brush the brochettes generously
Film and let macerate for 2 hours in the refrigerator.
Preparation time: 10 minutes
Cooking time: 4 to 6 minutes
Number of people: 2
5 star rating: 15 reviews
What wine to drink with lemon chicken skewers?
My favorite wine for this recipe is Rosé d'Anjou.
Temperature between 08 ° and 10 °.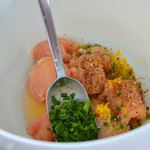 Prepare the marinade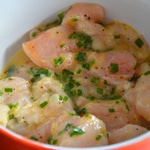 Let the chicken marinate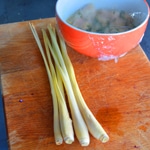 Lemongrass stick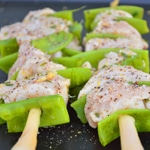 Cook the skewers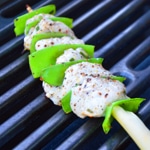 Zoom