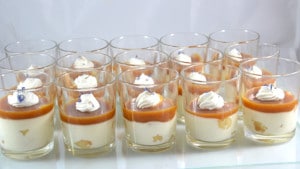 Recipe: Panna cotta of candied apples with caramel
Salted caramel apple panna cotta recipe. The apples are cooked like in a tarte Tatin, lightly caramelized, then mixed with the cream. It's frankly a real killing, an explosion in the mouth. Panna cotta candied apples with salted butter caramel, an easy dessert that you can prepare two days in advance, a great way to anticipate a big meal. I like this kind of dessert with several flavors, here the apples make strong impressions, they were still barely crunchy in the middle and deliciously candied around. I admit that we love panna cotta and especially these which are made with fresh fruit.
Recipe ingredients
Recipe for panna cotta of candied apples with salted caramel for 8 people:
6 large apples
½ liter of cream
1 g of agar agar
50 g sugar
30 g salted butter for the caramel
20 g of butter for the apples
Instructions
Prepare the caramel, you can prepare it the day before.
Heat the sugar in a dry saucepan on a large bottom.
Stir with a wooden spoon to obtain a not too colored caramel.
Gradually add 8 cl of very cold cream in the melted caramel.
Be careful, the cream will boil and the caramel may coagulate, but continue to heat while turning regularly, in order to obtain a smooth caramel.
Add the very cold salted butter in small pieces off the heat.
Let the caramel cool.
Peel the apples, then cut into quarters.
Melt the butter in a pan and sprinkle with the sugar.
Let the sugar gently caramelize.
Place the apples in the hot butter.
Let the juice from the apples evaporate and let them candy, then let cool
Heat the rest of the cream, as soon as it boils add the agar agar let cook for one minute, then turn off the heat.
Divide the candied apples into two parts.
Add the first part to the cream.
Mix to flavor the cream, leave to cool in the refrigerator.
Cut the second part of the apples into small cubes.
Incorporate the portion of the cubed apples into the panna cotta.
Share this half in the bottom of the verrines.
Pour the apple cream into the verrines up to ¾, then set aside in a refrigerator.
Pour the cold caramel over the taken panna cotta.
Place a small decor of whipped cream on the verrines.
Sow some dried cornflower flowers.
Preparation time: 20 minutes
Cooking time: 10 minutes
Number of people: 8
4 star rating: 1 review
What wine to drink with: Panna cotta of candied apples with salted caramel
My favorite wine for this recipe: Jurançon Gros manseng grape, Petit manseng, Corbu blanc
Temperature between 06 ° and 07 °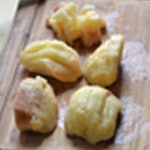 Peel the apples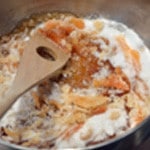 Melt the sugar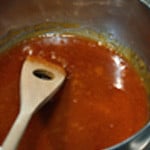 Melted caramel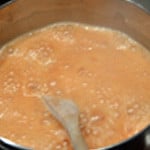 Add the cream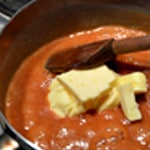 Incorporate the butter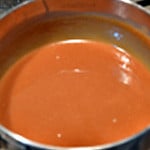 Ready caramel cream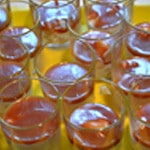 Pour the cooled cream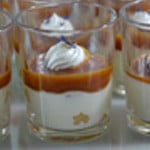 A dab of whipped cream<img src="/wp-content/uploads/2021/09/8696418925989827819.jpg" class="aligncenter"