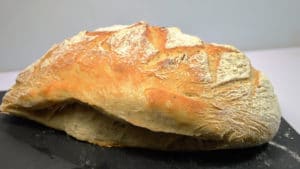 We've stopped buying bread for a few months now, since that book I received as a Christmas present. I take more and more pleasure in working with this leaven, it perfumes the breads and gives them a beautiful color. Completely natural, this method is similar to organic products and it appeals to my daughter and I don't mind, on the contrary. I like this bread with a generous crumb and a crispy crust but not too hard, a memory of my first breads where you broke a tooth on the crust, well I force a little though… .the polka is above all the blows that give the name Polka, we immediately think of Poland or Czechoslovakia for its origins (in any case for dance, it is these countries that are at the origin); I don't know about Polka bread.
La polka recipe for 2 loaves of 460 g
Ingredients :
500 g of flour type T65
325 ° of water at 20 °
100 g of liquid sourdough
3 g baker's yeast
10 g of fine salt
Instructions
Pour the flour and water into the bowl.
Mix with the hook for 5 minutes at low speed.
Tip the ball into a salad bowl, cover with a slightly damp cloth.
Let sit for 1 hour.
Then add the liquid leaven, the yeast and the salt.
Beat 4 minutes at low speed, then 7 minutes at high speed.
Form a ball.
Leave to grow for 1 hour 30 minutes under a damp cloth, the preparation will gain volume.
Flour the work surface and divide into two dough pieces.
Extend them slightly and let stand 30 minutes under a damp cloth.
Gently flatten the dough pieces with the palm of your hand.
Fold the base a third lengthwise.
Cast off the other third.
Fold the dough pieces lengthwise while welding the edges.
Roll them up to give them a length of 5 cm, making the ends thinner.
Place the Polkas on a welded baking sheet underneath.
Flatten slightly with a plank.
Cover with the cloth and let stand for 1 hour 30 minutes.
Preheat the oven to 230 °.
Flour the Polkas, roll two or four lines at an angle.
Pour 5 cl of water into the bottom plate and bake for 25 minutes.
Take out of the oven to cool on a rack.
Preparation time: 60 minutes
Cooking time: 25 minutes
Number of people: 2 loaves of 460 g
4 star rating: 1 review
What wine to drink with: La Polka
No particular wine with this recipe, because it is the dish that will define the wine.
Source: Le Larousse du pain by Eric Kayser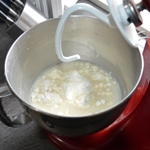 Mix the ingredients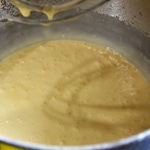 Leave to rest in the bowl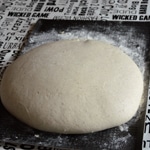 Let it grow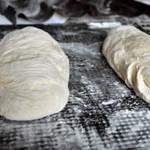 Form the bread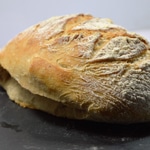 Zoom