Blueberry dessert recipe:
Instructions
Ricotta tart decorated with fresh blueberries, it will cook for a good half an hour in the oven, in a not too hot oven. A sweet ricotta tart to accompany my blueberries, a dessert with a very distinctive taste for amateurs. Of course, with a little courage, we could go to the Vosges to pick blueberries directly, which are rather abundant in this neighboring region. I love the scent and taste of this fruit, it lends itself wonderfully for a blueberry dessert recipe.
Blueberry dessert recipe for 4 people
Ingredients
350 g of shortcrust pastry.,
300 g blueberries
500 g ricotta
200 g sugar
1 packet of vanilla sugar
5 eggs
50 g of cornstarch
25 cl of fluid cream
1 pinch of salt
Instructions
Heat your oven to 150 °
Blanch 100 sugar, egg yolk and vanilla sugar in a bowl.
Incorporate the cornstarch and ricotta, whisk well so that the preparation is homogeneous.
Whip the crème fraîche in whipped cream, with a pinch of salt.
Gently fold the whipped cream into the preparation.
Beat the egg whites with 50g sugar and salt.
Mix everything delicately using a wooden spoon.
Place the shortcrust pastry in a pie pan lined with baking paper.
Prick the bottom of the pie with a fork.
Pour your cheese preparation.
Divide the blueberries in your pie.
Bake in the oven halfway up for 1 hour 30 minutes.
Let your pie cool by placing it on a rack.
Place a rack on top of the pie and turn your pie over, let it cool upside down, it will remain well inflated.
Preparation time: 20 minutes
Cooking time: 90 minutes
Number of people: 4
4 star rating: 1 review
What wine to drink with: Blueberry Dessert Recipe
My favorite wine for this recipe Gewurztraminer Grape variety: Gewurztraminer
Temperature between 10 ° and 12 °
Thanks to Patrick for his great recipe and his blog.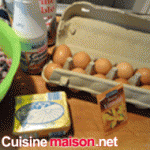 Ingredients
Separate the whites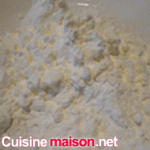 Cornstarch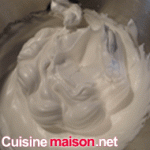 Whip the whites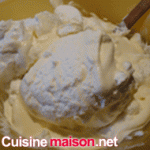 Add the yolks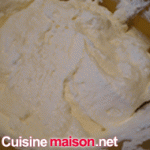 To mix together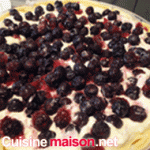 Ready to cook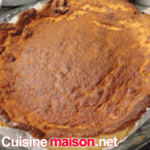 Cooked