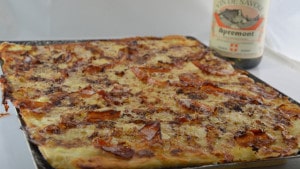 Savoyard tarte flambée recipe, here I had some ham and Reblochon that had been waiting for almost two months at the bottom of my refrigerator in the vegetable bin, thank you again to Refuge de Marie Louise and her generous package. Now with the Internet, we can all benefit from quality products without having to live there. Do not hesitate for all your charcuterie and Savoyard cheese products, the refuge is there with these local products. I did not want to make a tartiflette with this beautiful Reblochon, while the tarte flambée at home is always awaited with a certain pleasure and we are all lovers of well-made cheeses. They embalmed all the house for 24 hours, my tarts flambées à la Savoyarde du tonnerre de Dieu be careful, the cheese is moving, we are not dealing with a pie of rigollot. No need to go shopping, Marie Louise's refuge delivers you directly to your home, including wine

Recipe ingredients
Savoyard tarte flambée recipe for 4 people:
500 gr of reblochon from the Marie louise refuge
400gr of white cheese
2 onions
100 gr of cured ham smoking from the Marie louise refuge
Dough :
½ square baker's brewer's yeast
250g of flour
5 cl of olive oil
20 cl of Water
5g Salt
Instructions
Peel then finely chop the onions.
Cut the raw ham into thin strips.
Loosen the yeast in a bowl with lukewarm water (not too hot).
Add 100 g of flour to obtain a thick but supple dough.
Let stand for ½ hour near a heat source (radiator).
Once the dough is mounted, add the oil to the bowl.
Pour in the rest of the flour, salt.
Beat the dough until it forms a ball in the middle of the bateur.
Leave to rest for another ½ hour.
Roll out the dough on baking paper.
Spread the cottage cheese generously
Sow the onions
Add the ham the raw ham
Let rise for 1/4 hour before cooking.
Put in a very hot oven at 220 ° for 15 minutes.
Preparation time: 10 minutes
Cooking time: 15 minutes
Number of people: 4
4 star rating: 1 review
What wine to drink with: Tarte flambée à la Savoyarde
My favorite wine for this recipe: Savoie Apremont blanc Cépage Chardonnay, Pinot blanc, Savagnin blanc
Temperature between 08 ° and 10 °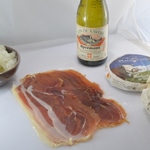 Ham and reblochon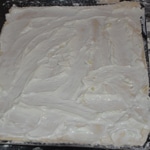 Roll out the dough then the cream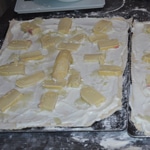 Add the Reblochon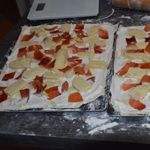 Then the Savoyard ham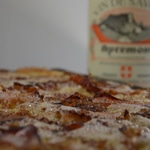 Zoom