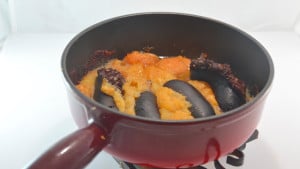 Apple pudding recipe
Instructions
Apple pudding recipe, with homemade pudding, it's a real killer. I love those apples that baked in the oven and flavored the blood sausage while baking. No need for additional fat, the sausage is sufficient on its own. I recognize that it's a lot of work to make your blood sausage, but when you taste it, you are satisfied with your work, what could be better frankly. Apple pudding, I really like this mixture of sweet and savory. Instead, use slightly acidic reinette apples after cooking. You can also make big croutons with country loaf, my mom used to serve it to us. It's too much my son was coming back from San Francisco, his colleague who was sleeping at home, asked me to taste my black pudding, it was on this occasion that I made this apple pudding.
Ingredients
Apple pudding recipe for 2 people:
8 reinette apples from Canada
2 parts of black pudding (homemade for me)
Instructions
Peel the apples and remove the middle.
Cut the apples in half.
Place the apples in a large oven-safe pan, I used my cast iron fondue pot.
Sprinkle with brown sugar.
Place in a hot oven for 30 minutes.
Take out the fondue pot and place the black pudding in the apples, making it penetrate a little.
Bake for 15 to 30 minutes depending on your desired doneness, I like it when it pops a bit.
Preparation time: 10 minute (s)
Cooking time: 15 to 30 minutes
Number of people: 2
4 star rating: 1 review
What wine to drink with: Apple pudding
My favorite wine for this recipe: Pouilly Fuisse white grape Chardonnay
Temperature between 12 ° and 15 °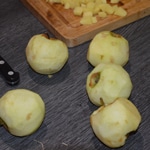 Peel the apples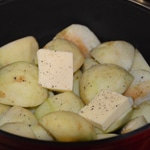 Slice the apples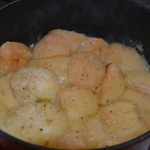 Leather the apples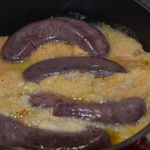 Add the sausage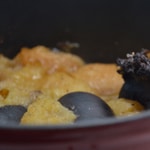 Zoom