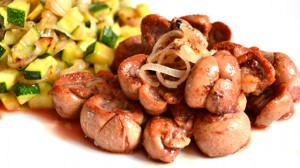 Recipe: Grilled veal kidney
Grilled veal kidney recipe, I wanted for this recipe, when I had lunch alone at home, to make a just grilled veal kidney in the pan. I like kidneys and particularly veal kidneys, as soon as my butcher offers them I throw myself on them, on the kidney of course. I like them in cream or flambé or even on the barbecue, for the moment it's pretty dead for the barbecue.
Recipe ingredients
Grilled veal kidney recipe for 2 people:
1 veal kidney
½ tablespoon of olive oil
2 shallots
Salt and pepper
Instructions
Garnish the veal kidney.
Cut the kidney into slices 1 cm thick.
Heat a pan with olive oil.
Sear the veal kidney slices under high heat.
Season generously with salt and pepper.
Enjoy hot.
Preparation time: 30 minutes
Cooking time: 10 minutes
Number of people: 2
4 star rating: 1 review
What wine to drink with: Grilled veal kidney
My favorite wine for this recipe: Margaux Cépage Sauvignon cabernet and franc, Merlot
Temperature between 15 ° and 16 °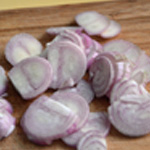 Chop the shallots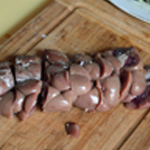 Slice the kidney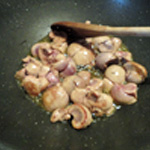 Grill the kidneys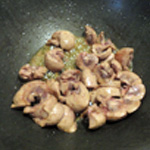 Grill them well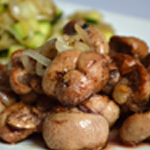 Zoom