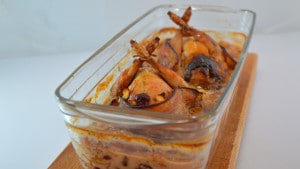 Recipe Quail stuffed with apples and cranberries
Instructions
Recipe for quail stuffed with apples and cranberries. A great recipe for lovers of sweet salty. An inexpensive recipe for the end of year celebrations. The quail stuffed with apples and cranberries cooked gently in the oven, without a lid. I like these fragrant poultry that can be eaten directly with the fingers for the greatest pleasure of the little ones… .With this generous sauce, which donuts these divine young ladies, the meat is deliciously flavored. I particularly adore cranberries, this royal fruit in its country and which is making a big breakthrough in our region. Cranberry and reinette from Canada, here is a beautiful Hymn for this country that I do not know.
Recipe ingredients:
Quail stuffed with apples and cranberries recipe for 2 people:
2 quails
2 ripe apples
15 gr of foie gras
125 gr of cranberry
20 gr of mushroom
20 gr of butter
2 teaspoons of olive oil
20 cl of fresh cream
20 cl of white wine
Instructions
Slice the Paris mushrooms into mirepoix.
Heat a pan with a spoon of olive oil.
Sear the mirepoix mushrooms under a high heat.
Salt and pepper.
Let the water from the mushrooms evaporate, stop cooking as soon as they release more water.
Let the mushrooms cool.
Peel the apples, then roughly chop them.
Cut the apples and cranberries into mirepoix.
Combine the fruits and mushrooms.
Mash the foie gras with a fork on the fruit.
Mix the preparation, salt and pepper.
Generously stuff the inside of the quails, pack well.
Heat a pan with the remaining oil and butter.
Grasp the quails on all sides, turn them over with tongs.
Add the white wine once the quails are well colored.
Let the wine reduce.
Add the cream.
Transfer to a glass dish.
Bake in the hot oven at 180 ° for 25 to 30 minutes.
Preparation time: 10 minute (s)
Cooking time: 30 minutes
Number of people: 2
4 star rating: 1 review
What wine to drink with: Quail stuffed with apples and cranberries
My favorite wine for this recipe: Burgundy red Pinot noir grape
Temperature between 14 ° and 16 °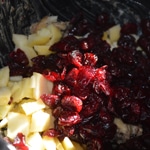 Ingredients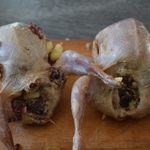 Stuff the quails
Bard the beasts
Grab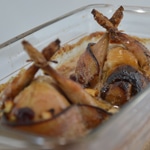 Zoom